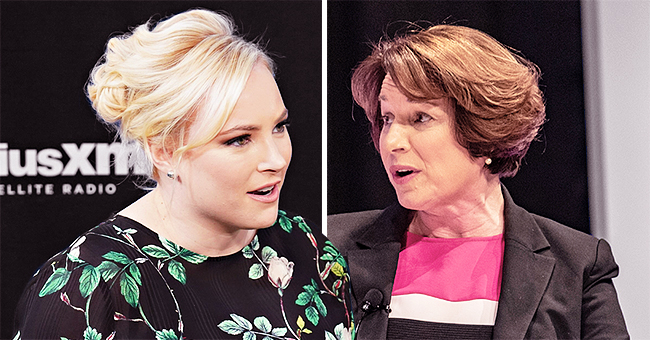 Getty Images
Meghan McCain Defends Her Late Father John from Sen. Amy Klobuchar
Over the weekend, Sen. Amy Klobuchar shared a recollection she had of sitting next to Sen. John McCain during President Donald Trump's swearing-in two years ago. However, her story upset the late senator's daughter.
On Saturday, while in Iowa Sen. Amy Klobuchar, 59, remembered and shared an incident that occurred during President Donald Trump's inaugural address to the nation. At the time, Trump spoke to citizens about the "American carnage" that he intended to bring to an end.
Klobuchar recalled: "The arc that we are on, this arc of justice, started the day after that dark inauguration." She further shared the conversation she had with Sen. John McCain who passed away last August at 81.
Klobuchar said:
"The day when I sat on that stage between Bernie and John McCain, and John McCain kept reciting to me names of dictators during that speech, because he knew more than any of us what we were facing as a nation. He understood it. He knew because he knew this man more than any of us did."
In 2018, "The New York Times" had described Klobuchar as a "McCain protégée," and her mentor. As he was dying of brain cancer she allegedly visited him at his family's Arizona ranch.
"Leave my fathers legacy and memory out of presidential politics."
However, a number of days after Klobuchar shared the story about McCain criticizing Trump, the late senator's daughter Meghan McCain, 34, had her say. She took to Twitter on Monday with a simple request.
She wrote:
"On behalf of the entire McCain family – @amyklobuchar please be respectful to all of us and leave my fathers legacy and memory out of presidential politics."
Later on the same day, Klobuchar's aide said the senator "had a long-time friendship with Senator McCain, she has defended him against President Trump's attacks in the past, and she has deep respect for his family." The statement shared by the aide further explained Klobuchar's recollection.
The message from Amy For America Communications Director Tim Hogan further read:
"While she was simply sharing a memory, she continues to believe that the best stories about Senator McCain are not about the views he had about President Trump: they are about McCain's own valor and heroism."
Klobuchar is in her third term as a Minnesota senator and is a Democrat who is running for the 2020 presidential nominations. Meghan is a conservative co-host on "The View" and will defend her father's memory and legacy at all costs.
Neither she nor her father was Trump, 72, supporters.
On April 1, Meghan defended 2020 presidential hopeful Joe Biden, 76, who was accused of inappropriately touching a number of women. In a Twitter post, the late senator's daughter described Biden as "one of the truly decent and compassionate men in all of American politics."
One of Biden's accusers, Amy Lappos, said he grabbed her by the head and rubbed noses during a 2009 political fundraiser. Lappos recalled that the incident "wasn't sexual" but that it crossed a line.
Please fill in your e-mail so we can share with you our top stories!