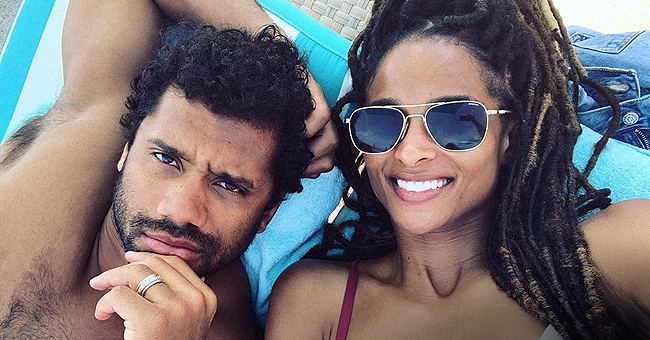 Instagram/ciara
Ciara and Russell Wilson Share Family Photos from Their Mexico Vacation
Ciara and Russell Wilson went on a family vacation to Mexico with their little children. The doting parents excitedly took to social media to share moments from the trip.
The family of four reportedly had the best time together as evidenced by the numerous photos Ciara and Russell posted on their social media. The award-winning singer mainly made sure to share pictures of herself and every member of her little family.
The mother of two posed with each one of her children, Sienna Wilson and Future Zahir Wilburn. She beamed in a black and white photo with Zahir, who is a product of her previous relationship with famous rapper Future, who had his little arms around her and a big smile on his face.
Her photo with two-year-old Sierra was also beautiful, and the mother-daughter pair smiled as they took the selfie excitedly. By the looks of things, the "Can't Leave 'Em Alone" singer sure had the best time in Mexico.
Ever the proud family woman, Ciara also shared a picture of her quarterback hubby, Russell Wilson. She is pictured lounging with him, and the pair looked like they could make it to the cover of a magazine.
They make the perfect pair, and although unaccompanied by any caption, the photo speaks for itself as Ciara happily smiled for the shot with Russell lying close to her.
Ciara and Russell tied the knot in a fairytale-like wedding ceremony in 2016 and have remained a delightful pair ever since. The couple never shies away from showing affection for each other and enjoy parenting even though five-year-old Zahir is not Russell's biological child.
Recently, the hunky sports star, while speaking to "Buzzfeed," advised parents of blended families like theirs, saying:
"In terms of tips, I mean, you know being there for your kids, you know, tucking them down, putting them to bed, going to as many things as you can."
Also, he lovingly said:
"Being a stepdad, you really find out what love's like. It's interesting. It's easy to love somebody that's blood and everything else, but when you can love somebody just like it's your own child and everything else, that's what real love is like."
Ciara and Russell keep making headlines thanks to their beautiful relationship. Quite recently, the talented dancer appeared on "The View" where she talked about her new "Beauty Marks" album, which went viral as it captured intimate moments from her wedding to Russell as well as the birth of Sienna.
They are a beautiful family, and hopefully, they will remain so for a very long time to come.
Please fill in your e-mail so we can share with you our top stories!