Tamar Braxton & Boyfriend David Profess Love for Each Other in Sweet Messages
Tamar Braxton and David Adefeso have exchanges public declarations of love and their romantic words have the fans in tears.
Tamar Braxton is in love, and she's not hiding it from the world.
The reality star posted a moving declaration of her love for boyfriend, David Adefeso on Instagram, and his response melted hearts.
'The fact that I once thought that love was a feeling. The fact is every thing about that word is an action. To be patient and kind and giving, respectful, Honest, mature, nurturing, protective, present, problem solving ,a provider, Saved, Positive, considerate, all about family, is EVERYTHING that u are LOVE.." Tamar Braxton
TAMAR BRAXTON IN LOVE
Braxton, who is still in the throes of a divorce from husband Vincent Herbert, has been dating the Nigerian businessman, and things have gotten serious very fast.
And since Braxton describes him as honest, mature, kind, respectful and giving, it's easy to see why.
Tamar is waiting for the final decree on her divorce from estranged husband Vincent Herbert
TAMAR BRAXTON PRAISES DAVID ADEFESO
Braxton goes on to thank Adefeso for showing her what true love is all about, and for never giving up on her,
"You won't let me run and hide Nor have a tantrum without communicating and facing ANY situation! Thank you for showing me that it's not just about FEELINGS!! It's DOING! #mylove I'm so grateful for you Happy just Being YOU day @david.adefeso." she wrote.
DAVID ADEFESO'S ROMANTIC RESPONSE
Adefeso responded to Braxton's declaration with one of his own on the comments section of her post:
"My love you complete me. Before u I was lost in the wilderness, thirsty and searching for that thing I I'd heard existed but remained all too elusive.  With every turn of the calendar I settled into the realization that I would be one of those unlucky few who never got to experience the true joy of experiencing life through the eyes of someone who makes every sunset more colorful, every bird's chirp more beautiful and every glance more meaningful," he wrote.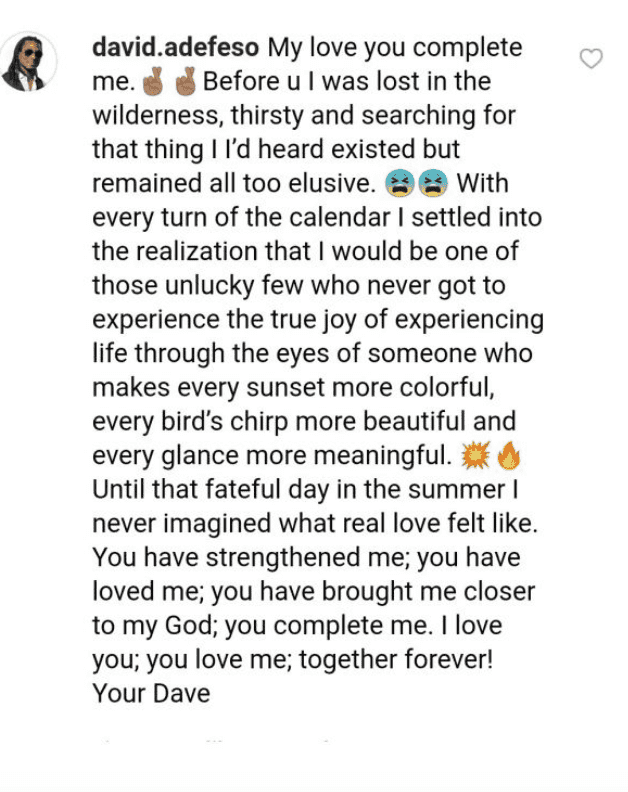 FANS OVERJOYED FOR TAMAR
Braxton's fans, who'd seen her struggling to come to terms with her painful divorce, were overjoyed by her happiness, and commented:
"You deserve to be happy beautiful one ♥ God is good and u deserve the best."
"I am so happy for you Tamar. The negativity doesn't even need to be addressed. Don't waste your energy on negative people. Misery loves company. Don't acknowledge anything that doesn't promote love, happiness, and positive vibes. Be happy and Be IN LOVE!!!! I'm loving you and David together."
Braxton and Adfeso recently stepped out together at the Afro Ball, and the Nigerian businessman started a buzz by referring to the R&B singer as "a keeper." Is there a celebrity wedding in the cards?
DAVID ADFESO WANTS TAMAR TO MEET HIS MOTHER
David's family lives in Nigeria, and the businessman has asked Tamar Braxton to travel to Africa with him, to meet his family.
"So, how would you like to go to Nigeria? Meet my mom, meet my brothers, my sisters are over there. What do you think?" he asked.
Tamar was moved by her boyfriend's invitation and has confessed she is flattered but has yet to make a decision.
Tamar is waiting for the final decree on her divorce from estranged husband Vincent Herbert which she filed for in October 2017.