Paralyzed High School Athlete Bravely Walks to Receive Diploma during Graduation
An emotional video goes viral as its content shows a high school graduand taking his certificate on his feet despite paralysis.
Kolton was determined to make it to the podium on his feet as he leaned on a walker for support. As he takes careful steps, the audience plus his fellow graduands cheer the youngster with a standing ovation.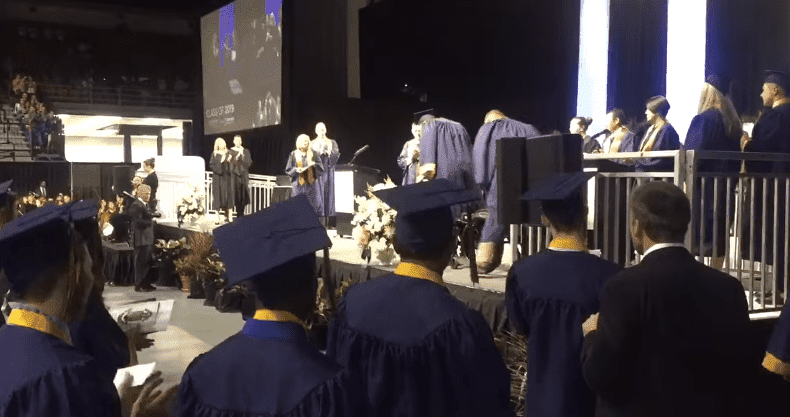 A friend is seen pushing Kolton's wheelchair behind and also helping with ease of movement.
"I was just focused on walking. I looked at my feet. I didn't even know everyone was standing," Smith said.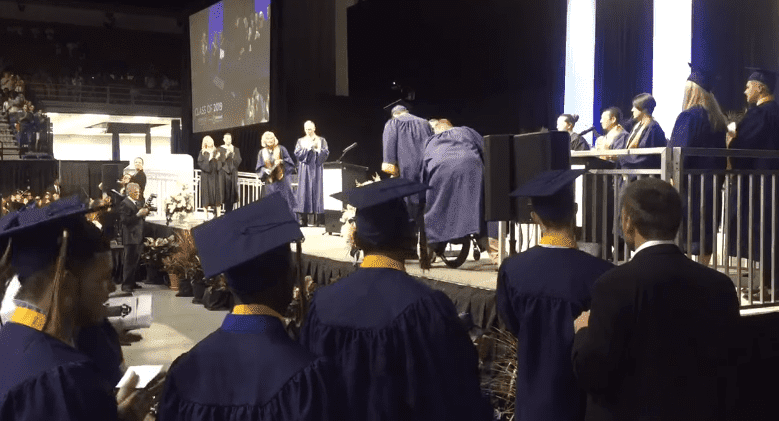 The 18-year-old student athlete was involved in a ghastly accident that cost him his legs, thereby confining the young adult to a wheelchair. Smith had been driving without paying full attention when he lost control of his truck.
It rained on that fateful day, and his truck veered off course. The vehicle flipped over and landed on its roof. Smith explained that his seat belt was not in place as he was violently thrown from the truck. Kolton stated that he landed on his back, and the effect of the fall rendered his torso and legs non-functional.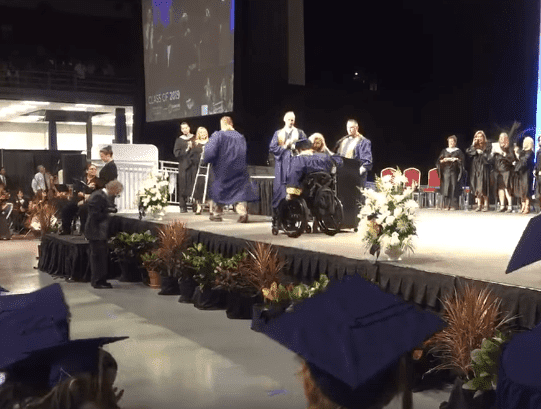 The young man is, however, grateful for not losing his life in the horrific incident. Smith shared his story in the hope that the public would learn from his situation. He also makes sure to stress the use of the safety belt.
Before his accident, Kolton played football at his Alma mater, Durant High School, and aspired to become a military man. Presently, he looks forward to pursuing a career in business at Southeastern University. Kolton Smith refuses to be daunted as he continues to believe in himself strongly.
Another student, Anna Sarol with a condition similar to Kolton's lost the use of her legs after a bad fall during a gymnastics session. Four years later, Anna stood on her feet to receive her high school diploma.
With the help of her family members, the young girl was able to make it to the stage as it became her turn. Speaking with "Good Morning America," Anna's mom, Louicee Sarol, explained that she was determined to help her daughter walk on stage.
Anna Sarol's inspirational walk across the graduation stage was highlighted on Good Morning America.https://t.co/Cb1JbaIfS1

— Olathe Public Schools (@olatheschools) May 29, 2019
The doting mom stated that her attention was centered solely on her child and did not expect the standing ovation they received from the audience. Louicee went on as she mentioned that Anna remained strong as she faced reality. The proud mom also referred to Anna as her strength.
"The only time I saw Anna cry was when she was hurting. She couldn't get up, and she didn't realize until a day after the surgery that she was paralyzed." Sarol added.
Anna Sarol hopes to become a motivational speaker as well as being a point of inspiration for millions.