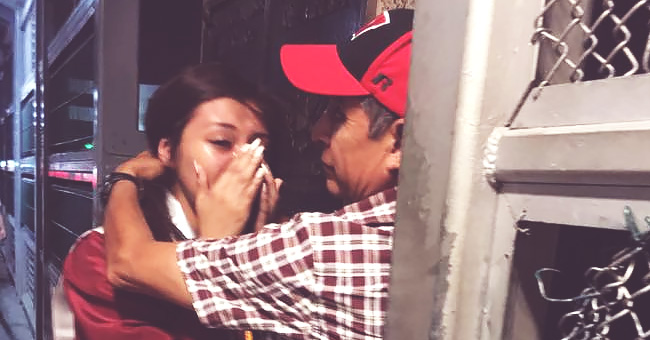 Facebook/Sarai Ruiz
Texas Graduate Hugs Deported Dad at the Mexican Border after He Couldn't Attend Her Big Day

Daddy's girl! A proud father was forced to miss his daughter's graduation due to immigration laws. To celebrate the teen tearfully met her father at the border.
A Texas student took to Facebook to share her heartwarming graduation experience. The Laredo High School graduate and her father went viral after a video of their meeting after her graduation was posted online.
The teary-eyed father did not get to see his little girl walk the stage to receive her diploma on graduation night. Sarai Ruiz's father was not able to attend the graduation ceremony because he couldn't cross into the U.S.
Ruiz has been forced to cross the Mexican border every day to go to classes at her high school in Laredo, Texas for years. A Wisconsin native, she and her mother moved to Nuevo Laredo, Mexico, a decade ago to be with her father after he was deported from the United States.
"It's hard to wake up early, like at 5 a.m. just so you can cross and go to school, and then cross back in the afternoon," she said.
On the biggest night of her high school life, she was forced to once again cross the border without her father. After the ceremony, still dressed in a graduation robe, she rushed back to the border to meet him.
The loving father eagerly awaited her arrival on a bridge that separates Mexico and the U.S. Ruiz threw her arms around him and broke down in tears as they hugged tightly.
Ruiz wanted to share the bittersweet experience. She instructed her cousin to capture the moment and later uploaded it online.
"My story is not one that is unique, my story is shared with many past, present, and future."
The video went viral as soon as it was posted to Facebook. Besides a big hug on the bridge, her father also shared some beautiful words with his daughter.
"He said that 'nobody could ever separate us, that only God could separate us.' That will forever be engraved in my mind," Ruiz said.
Ruiz, who is the first person in her family to graduate from high school. She is ready to attend the University of Texas at Austin this fall.
Ruiz plans to study psychology and government. In a follow-up post on Facebook, she used her chance in the spotlight to highlight the plight of others going through what she had to endure.
"My story is not one that is unique, my story is shared with many past, present, and future graduating classmates, and I am proud of every single one of them," wrote Sarai in the emotional post.
Last year, another heartwarming story of success was uncovered when the Yeckes triplets defied all odds and graduated from Valley High School. The triplets graduated despite being orphaned and homeless at the time.
Please fill in your e-mail so we can share with you our top stories!