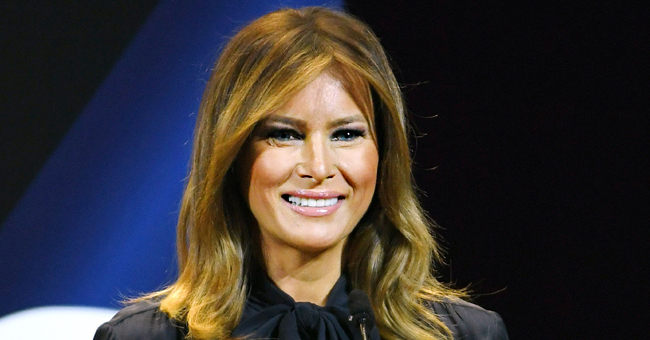 Getty Images
Melania Trump Attends Gala Honoring This Year's Lincoln Medal Recipients at Ford's Theater
Melania Trump, as always, stunned fellow attendees and President Trump with her appearance at the recently-held Ford's Theater Gala wearing a high-end "Michael Kors" dress.
Being the First Lady comes with many perks, and an important one is having access to premium fashion outfits. Yesterday, June 2, Melania Trump attended the Ford's Theater gala alongside her hubby, President Donald Trump.
For the special event, she wore a floor-length sleeveless gown. The black dress would appear very basic but for the bold chain links and a thigh-high slit which put Melania's toned legs on display as she sat during the occasion. Being that the dress is a unique design by Michael Kors, it is no surprise to hear that it cost almost $5,000!
Ever the exquisite fashionista, the mother of one paired the long gown with a pair of silver stilettos which matched the bold silver chains on the dress.
Asides two silver rings which adorned her fingers, there were no other visible accessories making the elegant combination perfectly fitted to the stylish yet simple ensembles Melania is popularly known for.
With her brown hair styled to fall past her shoulders and her face beaten with the right amount of makeup, Melania was the epitome of sheer elegance. During the gala, she smiled and clapped excitedly along with the audience showing just how much she enjoyed the program which held in honor of former US President, Abraham Lincoln.
To commemorate the occasion, Melania took to Twitter to share a photo of her world-famous hubby, President Trump addressing the massive audience on stage. She posted the image with a heartfelt message of appreciation, and it reads:
"A lovely evening at Ford's Theatre honoring this year's Lincoln Medal recipients & the great work they've done. Thank you to @FordsTheatre for hosting the gala & the opportunity to come together in celebration of the arts & the legacy of former President Lincoln."
For the audience and Melania's fans, the highlight of the evening came when President Trump proudly called attention to his stunning wife as he gave his speech. While pointing at Melania, he said:
"I want to thank all of the chairs of the Gala, including your honorary co-chair, America's beloved First Lady."
The statement elicited a charming smile from the former model and Trump, the ever doting husband, continued saying:
"I'd love to have her poll numbers! Where do I get her poll numbers?" then speaking directly to Melania,
He exclaimed:
"They do love you!"
Amidst the seated crowd, Melania responded with a glowing smile even as the entire audience applauded and turned in her direction. "Way to go Trump," she must have thought!
Please fill in your e-mail so we can share with you our top stories!