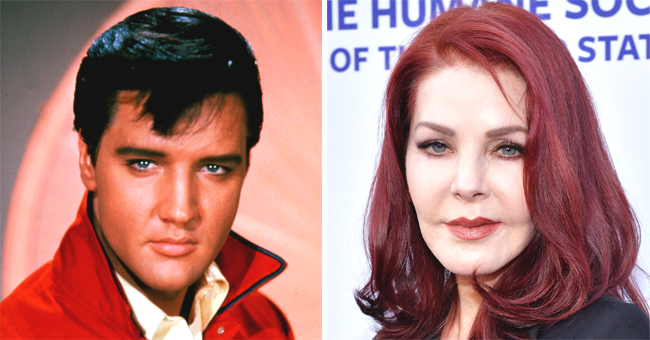 Getty Images
Priscilla Presley Shares 'Vivid Recollection' of Elvis' Surprise Party on Her 22nd Birthday (Video)
Priscilla Presley shared a video of her surprise 22nd birthday party Elvis Presley hosted; she claims that the day is still vivid in her memory.
Priscila Presley recently had a massive throwback moment on Instagram. The ex-wife of the famous singer, Elvis Presley, shared a video of her 22nd birthday showing the surprise party her late ex-husband threw her.
The video which had no audio showed a young Priscilla in 1967 walking into what appeared to be the living room of their Graceland Estate home in Memphis, Tennessee.
Elvis wearing a white polo shirt and grey fedora hat had his hand on her shoulder, and his then-young wife covered her face with her right hand as she took in the scene before her.
Priscilla dressed in a green outfit walked shyly to the cake and blew out the candles, after which she proceeded to unwrap her gift.
Noting that she has a very "Vivid recollection" of that day, the mother-of-one asked in her caption of the video "Where did time go?" and she revealed that Joe Esposito shot the video.
Priscilla got married to Elvis the same year she turned 22. They met while the famed singer was serving in the military in Germany in 1959. In '68, she gave birth to their only child — Lisa Marie Presley — and after six years together, the marriage ended in '73.
According to "PopCulture," the singer's ex-wife blamed the temptations he faced as a public figure and infidelity as the reason things didn't work between them. She said she was unwilling to share her man and noted that the life of Rock and Roll is not as glamorous as it appeared.
In 1977 when the singer died, he entrusted the management of his legacy to Priscilla and his daughter, and the two have done all they can to preserve the heritage of the man they both loved.
In 2015, they held a public celebration of what would have been his 80th birthday at Memphis; mother and daughter cut a three-tier frozen cake in honor of the legendary singer.
"There's no other place I'd rather be."
Elvis died at the age of 42, and his birthday — January 8 — is Elvis Presley Day in Memphis. He might be dead for over four decades, but as Priscilla said, the world still has a "Vivid recollection" of his music.
Please fill in your e-mail so we can share with you our top stories!