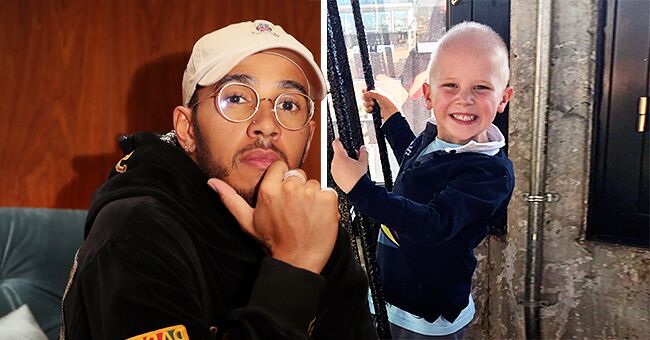 Getty Images / twitter.com/HarrysPledge5
Lewis Hamilton's 5-Year-Old Fan Harry Shaw Who Inspired the Formula One Racer Has Passed Away from Cancer
Five-year-old Harry Shaw, who inspired Lewis Hamilton's victory in the Spanish Grand Prix, passed away after battling a rare cancer for ten months.
Harry Shaw fought a hard battle having been terminally ill with a rare cancer but sadly, lost his life on Saturday. His family shared the heartbreaking news through a tweet which read:
"It's with the greatest of sadness and most broken of hearts we have to inform you Harry slipped away on Saturday evening. He fought to the very end and we were both with him for his final moments. His pain and suffering is over now."
The five-year-old was diagnosed with Ewing's sarcoma, a sporadic bone cancer, and last month sent Hamilton the best of luck before his race.
"Hello Lewis Hamilton. Good luck winning the race in Spain and thank you for the gifts. Lots of love from Harry and goodbye," he said in a short video.
The five-time Formula One World Champion, who previously sent the little boy a Mercedes hat and signed photos, saw Harry as his "spirit angel" and credited him for his recent victory.
"Thank you so much, you are my inspiration today Harry. I will try to make you proud," Hamilton posted. "You are such a strong boy, I wish I was as strong as you, I wanted the world to see how strong you are and ask everyone to send their best wishes and prayers to you."
After learning of his demise, Hamilton paid tribute to Harry through a tweet where he thanked the little boy for being a "positive light."
There are only a few number of patients diagnosed with Ewing's Sarcoma. Like Harry, 14-year-old Daisy Wyatt suffered from the terminal illness and passed away on May 1, 2017.
She battled cancer for two long years and was hopeful after being told the disease was curable, but unfortunately, the cancer had spread to her lungs by the time she had her final chemotherapy.
By the time her mother received the news, she knew there was no more cure and did the worst thing any mother could do -- plan for her child's funeral.
"I knew there wasn't a cure, so I started thinking about everything and had to prepare myself that she wasn't going to be here forever. I started planning her funeral," she said.
Please fill in your e-mail so we can share with you our top stories!