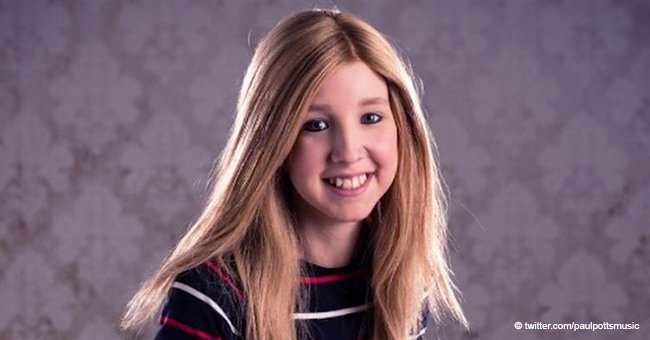 'Not Ready to Go': Heartbroken Mom Shares Her Teen Daughter's Last Words Before She Passed Away
A bereaved mother shares the bitter battle of her 14-year-old daughter with cancer and her passionate lasts words as she slipped away.
One of the saddest things in life is watching a loved one pass away knowing there is absolutely nothing you can do to prevent the unfortunate happening. Even worse is the pain a mother feels when the cold hands of death snatch away her child gradually.
Sarah Griffiths is one woman who has this story to tell of the demise of her 14-year-old daughter, Daisy Wyatt on May 1, 2017, after a long battle with "Ewing's Sarcoma," a rare form of bone cancer.
The battle started in June 2015 when the "Oakdale Comprehensive" pupil started experiencing leg spasms.Sarah recounts the ugly experience by saying:
"We took her to A&E, and they did a routine scan and said she needed an urgent MRI," she said."We went back the following Tuesday, and that's when they noticed a mass on her pelvic bone."We went to Birmingham where she was diagnosed with 'Ewing's Sarcoma.' "
There seemed to be a ray of hope when the family received assurance that the disease was curable and Sarah assured her little girl they would "ride this emotional rollercoaster" together.
Daisy's loss of hair followed, and the family headed to Jacksonville in the United States in January 2016 for eight weeks for proton beam therapy after which the glad news that "95% of the tumor was now dead" came.
The "road to recovery" was cut short in the summer of 2016 when Daisy's final chemotherapy revealed she had "nodules on her lungs" signaling that cancer had spread to her lungs.Knowing that this was incurable, Sarah began preparing for the inevitable.
"I knew there wasn't a cure, so I started thinking about everything and had to prepare myself that she wasn't going to be here forever. I started planning her funeral," Sarah said.
Daisy's friends joined the family in giving her cherishable moments as they organized a Daisy dance in her honor. At the dance, she danced to the song Stand By Me as the family had their last dance together.Over Easter in 2017, the family went on a caravan holiday where Daisy's condition worsened. She landed in a hospital in Carmarthen where she started "to lose her breath" and eventually, she took her last breath.
According to Sarah, Daisy's last words were, "Mam, I'm not ready to go. I want to go to prom and see my brothers grow up."
After Daisy's demise on May 1, 2017, aged 14, Sarah made sure her little girl's funeral was a celebration of the life well spent. The bereaved mother is now committed to the helping of other families and giving back to her world. She has raised over £30,000 for charity.
"Daisy was absolutely perfect in every way," Sarah added. "She was never an ill child and always an A* student. She loved school."She had everything going for her and always had a beautiful smile on her face."
It's never easy to lose a loved one. Rest in perfect peace, Daisy.
Please fill in your e-mail so we can share with you our top stories!