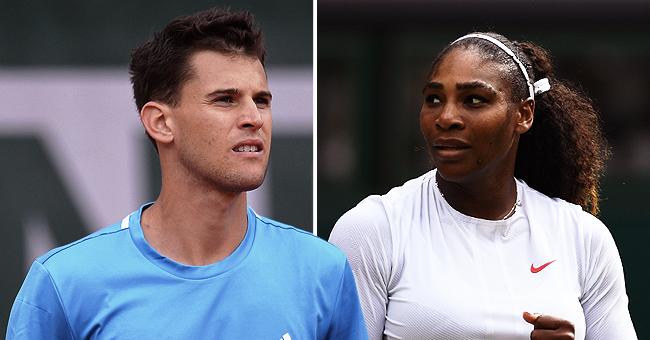 Getty images
Serena Williams Showed 'Bad Personality', Says Dominic Thiem after Press Room Drama

Austrian tennis player Dominic Thiem has accused Serena Williams of having a "bad personality" after he was reportedly made to cut short his interview so the Grand Slam champion could use a press room.
A tournament official told Thiem, who had just won his French Open match against Uruguay's Pablo Cuevas, to leave the room for Williams, 37, on Saturday, reports BBC.
Williams had just suffered a shocking defeat in the tournament's third round and was to sit for a post-match press conference, but Thiem did not think his interview should have been cut short for her.
"Every player has to wait. It shows a bad personality, in my opinion," said the 25-year-old Austrian fourth seed, according to the outlet.
Williams was allegedly in a hurry to get the press conference done as soon as possible after she lost to fellow American Sofia Kenin, saying "put me in another room, smaller, but now."
"What the hell? But it's a joke, really," Thiem reportedly said after he was instructed to leave the room for Williams. "What's the point of that, that I have to leave the room because she's coming?"
COMPARING WILLIAMS TO OTHER TENNIS GREATS
Speaking later to Eurosport about the incident, Thiem added:
"I wasn't angry or frustrated. Maybe for a couple of minutes or so. It is just the principle. It doesn't matter, if it is me who sits in there; even if a junior is in there, every player has to wait. It is a matter of course. It also shows a bad personality in my opinion. I am 100% sure Federer or [Rafael] Nadal would never do something like that."
ROGER FEDERER CHIPS IN
Federer, 37, weighed in on the matter as well, pointing out that players who just won their match are usually given priority over those who are leaving the tournament.
"Something went wrong for this to happen," observed the Swiss tennis legend. "There must have been a misunderstanding, or maybe they should have kept Serena still in the locker room, not waiting here in the press center."
WILLIAMS' 'RESPONSE'
BBC reported that the tournament director Guy Forget has apologized to Thiem, but Williams has remained mute on the subject.
Saturday's loss marked her earliest loss at a major tournament in five years, since 2014's Wimbledon and Williams referenced it in an Instagram post.
"Yesterday was not my day. But it's about getting up time and time again after you fall. Here's to a multitude of tomorrows," Williams captioned a pic of her in match gear.
OTHER GOOD NEWS
While it may not be her day with tennis, the phenomenal athlete is celebrating her debut on the Forbes' list of richest self-made women in America. She also makes history as the first athlete to make it to the list.
Thanks to her foray into venture capital with Serena Ventures and her recently-launched clothing line, the Michigan native came in at No. 80 on the list with an estimated net worth of $225 million.
"Be the brand," Williams wrote, alongside a photo of her Forbes Magazine cover. "Starting @Serena and @Serena.Ventures are just a few steps. Honored to be the first athlete on @Forbes #SelfMadeWomen list."
Please fill in your e-mail so we can share with you our top stories!