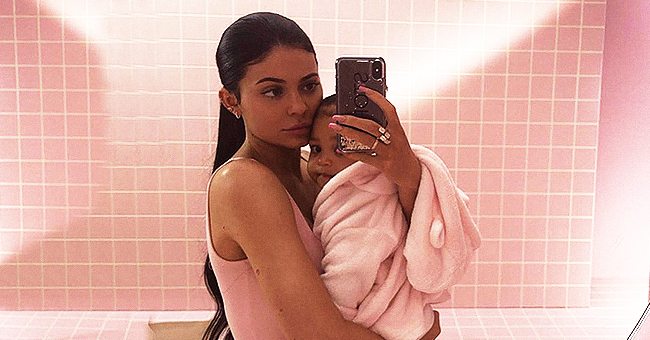 Instagram/kyliejenner
Watch Kylie Jenner Juggle Being Mom to Stormi & Running Billion-Dollar Empire
Kylie Jenner took her fans behind the scenes for a day in her life with a new vlog shared on her YouTube page. The 20-minutes long video shows different sides of the young makeup mogul, as she juggles her mom duties, business meetings, and spares some time to surprise one of her friends.
She's the youngest self-made billionaire in the entertainment industry at the moment, but managing an empire while being a mom is not easy.
Following with her fans' requests, Kylie Jenner decided to create a vlog not only to show off her new office but also to give them a glimpse into her daily life.
GEARING UP FOR A BIG DAY
In the video, Kylie's day started before 6 AM, when her daughter Stormi woke her up.
After putting Stormi back to sleep around eight, Jenner took a bath and spend around two hours with her glam team getting her makeup and hair done for the day, as she announced there were many compromises in her schedule.
She also made sure to pick an outfit for Stormi, who would be going to a farm with her cousins that morning.
Jenner took her camera inside her closet, showing off some of her designer clothes and purses before deciding for a pink jumpsuit and a white handbag to match the decorations in her office.
She proceeded to hop into one of her many cars and drove off, arriving at her office at the same time that her sister Kendall Jenner, who pointed out, "You could have told me you were in full glam."
MEETINGS AND MOMMY LIFE
After some Kylie cosmetics meetings, and a cameo from momager Kris Jenner, Stormi arrived at the office with her nanny, successfully interrupting Kylie's reunion as she ran out to welcome her.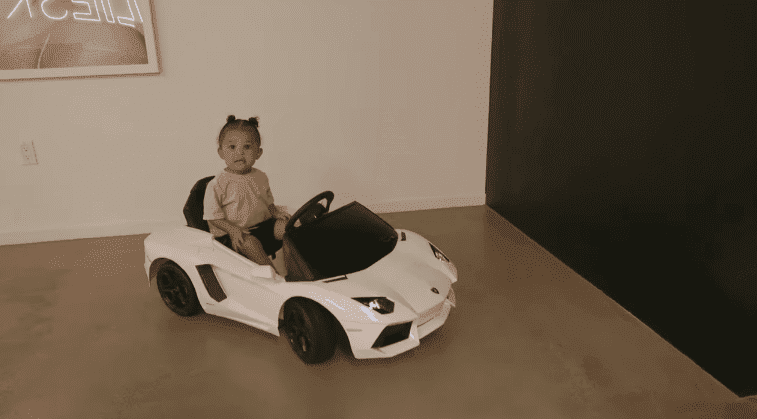 Stormi in her Lamborghini | Source: YouTube/Kylie Jenner
Stormi seemed to know her way around the building, hoping on a white mini Lamborghini that Kylie remote controlled around the floor before arriving at a pink-decorated kids room made especially for the 1-year-old.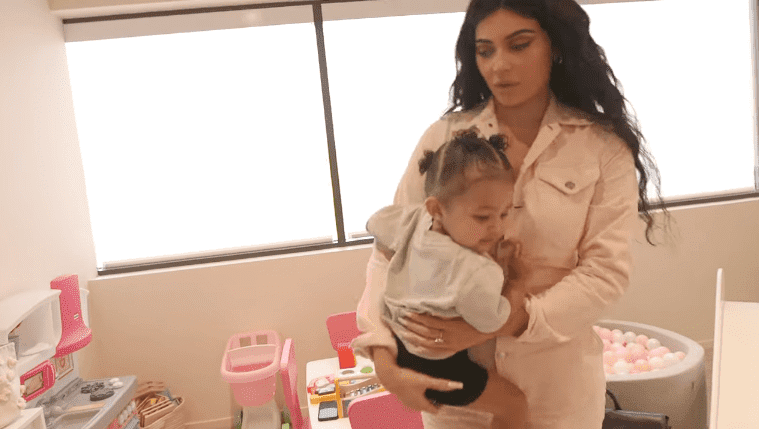 Kylie and Stormi in the kids' room. | Source: YouTube/Kylie Jenner
"It's hard to manage mom life and work life sometimes. So, that's why I made her a bedroom here so she can be with me and still have fun," the 21-year-old mom explained to the camera.
"Stormi is in all my meetings, she really is," Kylie added, as Stormi sat on her lap while Jenner proceeded to make decisions with her team.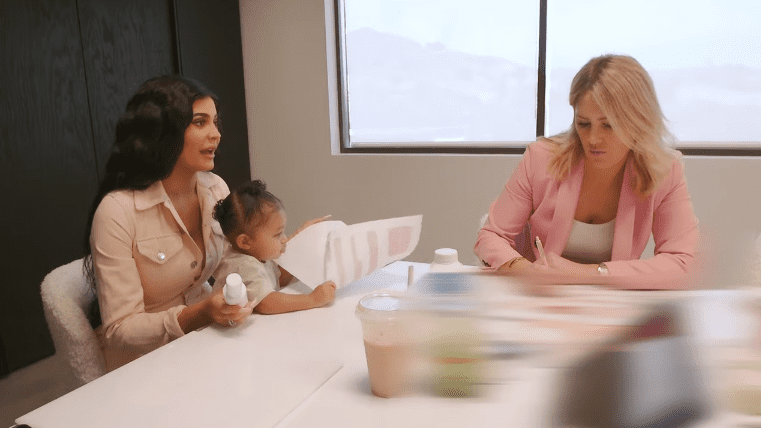 Stormi joined mom in her meeting. | Source: YouTube/Kylie Jenner
Later on, Stormi left, and Kylie did a photoshoot for one of her upcoming lip kits releases. Then, she left the office wearing only a bathrobe and had an awkward moment in an elevator with one of her employees called José.
A TEARFUL SURPRISE
Kylie then got ready to throw a surprise birthday party for her makeup artist Ariel, whom she made cry twice. First, when he arrived at the venue and realized what was happening; and later on, with an expensive diamond ring that she gifted him.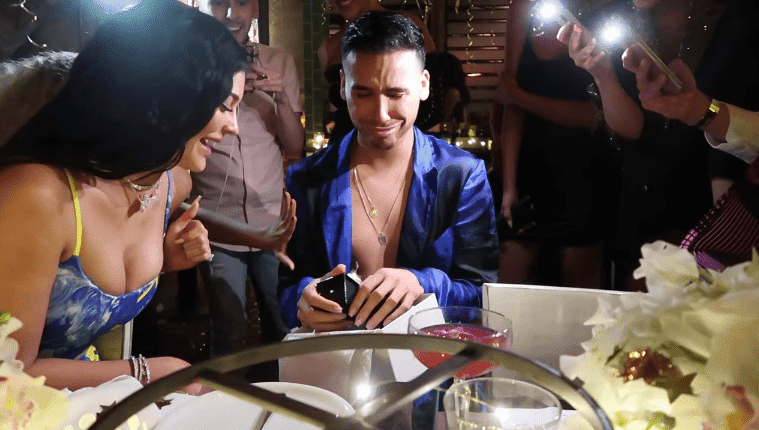 Kylie surprised her makeup artist. | Source: YouTube/Kylie Jenner
In the video, Travis Scott, Kylie's boyfriend, and Stormi's father, can be heard telling the makeup mogul "I love you" in a sweet phone call.
"I wanted to give you guys a glimpse into a typical day for me," Kylie explained in the description of her video. "You guys have been asking to see my new office, but I thought it would be fun to show you everything from the moment I wake up, so I'm taking you into my home, my closet, my business meetings, my photoshoots and more."
She promised there are more videos to come.
Please fill in your e-mail so we can share with you our top stories!