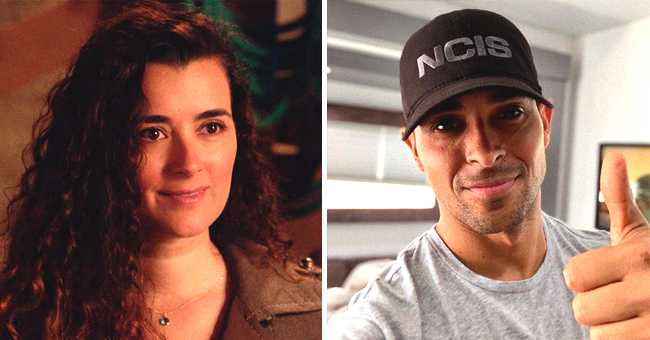 twitter.com/TVLine // instagram.com/wilmervalderrama
'NCIS' Wilmer Valderrama Welcomes Ziva Home in Touching Message Ahead of Season 17

The series' final episode from Season 16 ended with a cliffhanger scene featuring the unexpected return of a character that was assumed death for three seasons, and Valderrama shared his excitement about it.
The final episode from Season 16 of "NCIS" was aired on May 21, and it featured a cliffhanger with the shocking return of Special Agent Ziva David, played by Cote de Pablo, who was supposedly killed by a mortar attack in Israel on Season 13.
Ziva's appearance lasts only a few seconds, during which she is only seen by Gibbs (Mark Harmon's character) as she delivers her only line, which prompted fans to wonder if the scene only happened in Gibb's imagination or in a dream.
But one of De Pablo's co-stars was as excited as the audience with Ziva's return, and his May 22 social media post was seen as a confirmation that the Chilean-born actress is actually back.
One day after the episode aired, 39-year-old actor Wilmer Valderrama shared a clip showing Ziva walking down the stairs of Gibbs' basement to surprise him and leave him speechless, to celebrate de Pablo's comeback.
"This is not a drill everyone. Welcome home #Ziva People... see you all season 17. #NCIS #Spoiler," the Venezuelan star captioned the post, to the fans growing excitement.
"Can you hear the fans screaming?" a user wrote in the comments section of the post. "I waited years for this moment! That's why I never gave up on watching this show, after so many changes!" added another user.
"This was the biggest cliffhanger in all 16 years of this show, Jesus Christ," one fan expressed, while another one thanked Valderrama for "the biggest spoiler in the history of television."
While Valderrama might have committed an indiscretion by sharing the scene so soon, although he clearly warned about the spoiler, his shock is comprehensible, since this took him by surprise as well.
The showrunners took great effort in keeping the plot twist hidden even from most of the cast and crew, shooting the scene in the middle of the night with a minimum crew plus Harmon, apart from keeping it out of the script.
"This surprise moment is just the beginning. We are thrilled to share that Cote de Pablo will guest star in the NCIS Season 17 premiere this Fall as Ziva's warning to Gibbs unfolds," they said in a statement after the episode was aired.
As exciting as Ziva's return is, de Pablo is not expected to return as a series regular, and she will probably be gone once again after the storyline her appearance opened comes to closure on the upcoming season.
But this will surely give some satisfaction to the many fans that have kept begging for the character's return for years now.
Even if Valderrama and the showrunners' confirmation of de Pablo returning on Season 17 to reprise her role for at least another episode, the nature of her appearance is still uncertain for the public.
Nevertheless, TV Line's Matt Webb Mitovich, has enough reasons to believe that Ziva is back for real and is not merely a product of Gibb's imagination.
"Since de Pablo is only announced as being back for one episode (thus far), you can have Ziva slip back into Gibbs' orbit to dump some intel on whatever hornet's nest he has poked, and then slip right back out like the ninja she is," Webb theorized.
"One can surmise that there's a certain protectiveness when it comes to the series' famously stoic-and-steady lead character and his mental state," he added, suggesting that the writers wouldn't want Gibbs to end up being unreliable.
"It's one thing to give Gibbs the occasional chat with Mike Franks or Diane [therapists]; it's another to make it an ongoing, multi-episode arc," Webb argues.
Please fill in your e-mail so we can share with you our top stories!