Melania Trump Looks Chic at D-Day 75th Anniversary Commemoration
Subscribe to our Google News >>>
The First Lady wore a simple but stunning cream suit on Wednesday when she visited Portsmouth. It's the second time she's showed off the piece. 
On Thursday, Melania Trump joined President Donald Trump for the 75th anniversary of the D-Day landings in Portsmouth. As always, the first lady's look was clean-cut and modest. 
It was also a bit pricey. She wore a cream coat from The Row label, a piece that Daily Mail reported would typically go for up to $6,100. Meanwhile, Donald wore a simple blue suit and striped tie. 
Today, we remember those who fell, and we honor all who fought, here in Normandy. They won back this ground for civilization. To more than 170 Veterans of the Second World War who join us today: You are among the very greatest Americans who will ever live! #DDay75thAnniversary pic.twitter.com/n0uIVHlkRL

— Donald J. Trump (@realDonaldTrump) June 6, 2019
Melania's long-sleeve coat came to a few inches above her ankle. She paired it with nude pumps and an asymmetric Philip Treacy disc hat. The first lady wore her signature smokey-eye look and kept accessories to a minimum. 
Just one ring was spotted on her finger and she wore a small pair of earrings. Her neck and wrists were left bare. She also stayed subtle by styling her hair back in a low bun.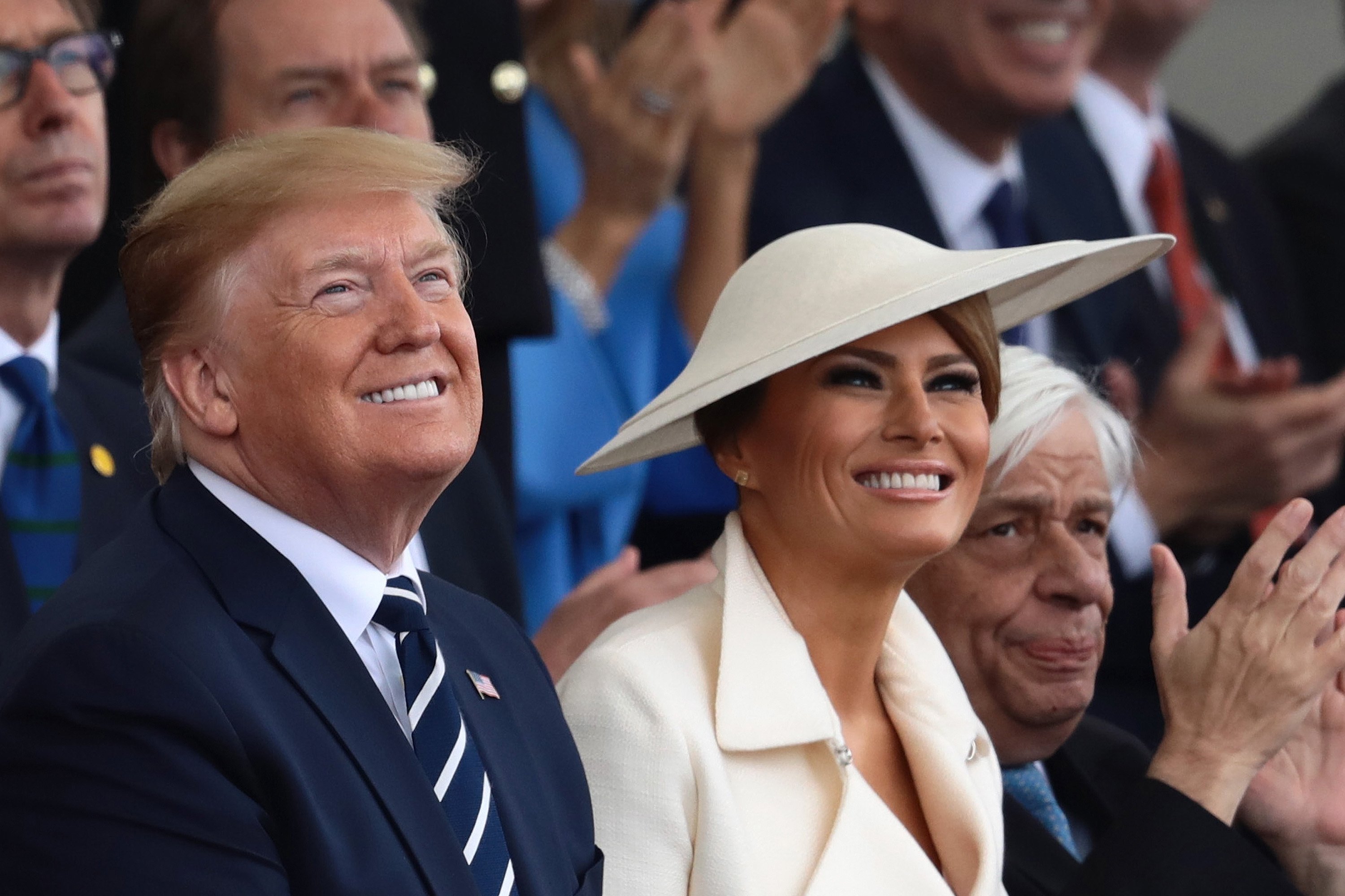 The First Couple met up with Queen Elizabeth and Princes Charles for the commemoration at Southsea Common. Also present was British Prime Minister Theresa May.
As planned, Donald and Melania reportedly went to Ireland and took up residence at the president's golf course following their British trip. They are to head to France afterward for a Normandy Landings ceremony.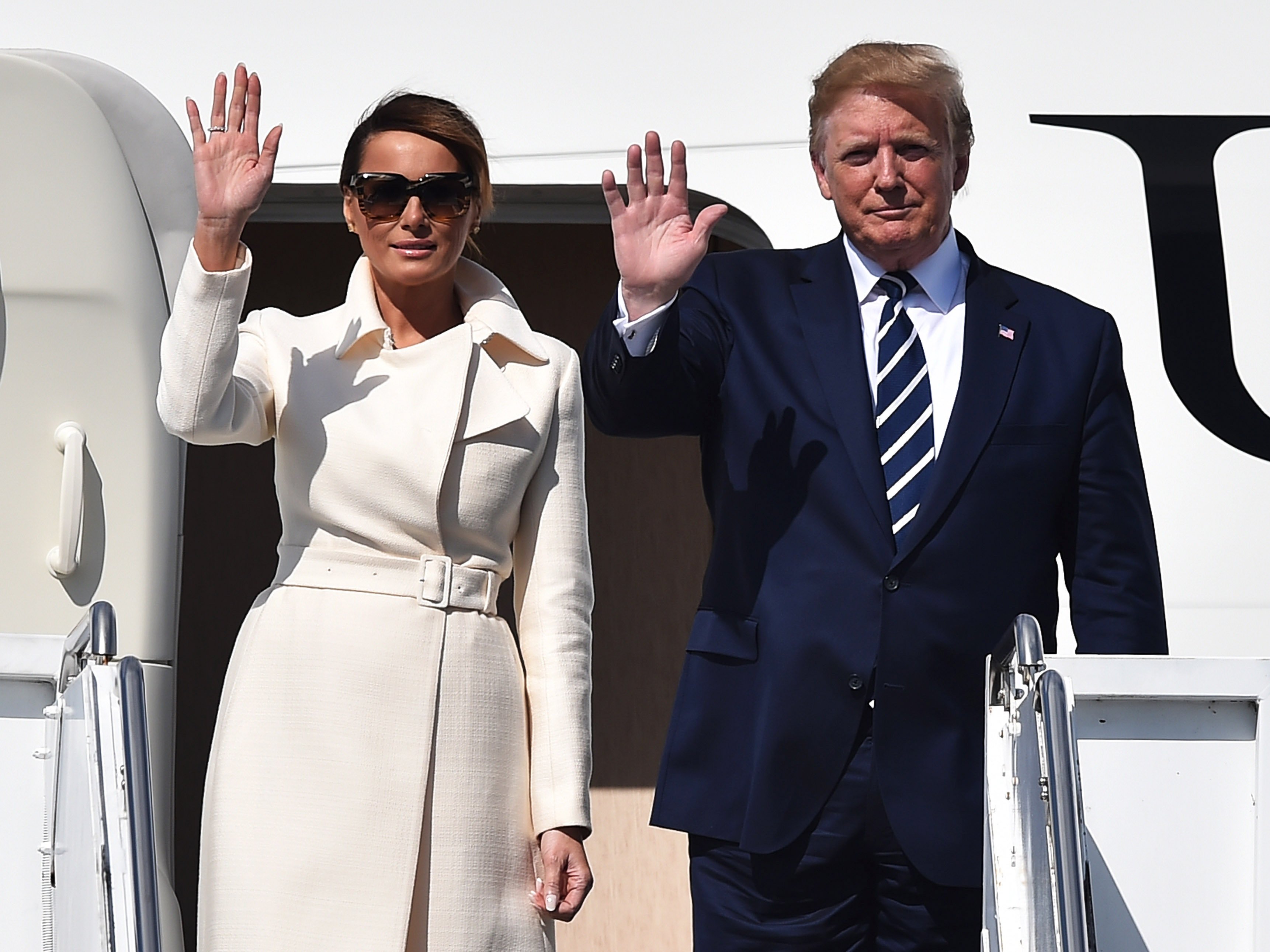 On Tuesday, Melania again wowed during her visit to the United Kingdom when she joined her husband for a dinner with the Duke and Duchess of Cornwall. 
The First Lady wore a red gown designed by Givenchy that reportedly costs $7,124. Embroidered beads lined the piece, but the highlights were the long cape-like sleeves that pulled the extravagance of the dress together.
President Trump and First Lady Melania Trump hosted the Prince of Wales and the Duchess of Cornwall at Winfield House last night for a reciprocal dinner.

Photos from the event: https://t.co/BweauZ6S0g pic.twitter.com/fnDCsVyzJw

— The White House (@WhiteHouse) June 5, 2019
Melania wore her hair down and wore diamond studded earrings for the royal affair that took place in the Winfield House. Meanwhile, Donald wore a chic black suit and a matching bow tie. 
The Duchess of Cornwall wore a cream dress with sheer sleeves and a matching overlay. The Prince of Wales matched the president with a black suit and bow tie as well.
The Prince of Wales, The Duchess of Cornwall @ClarenceHouse The Duke and Duchess of Cambridge @KensingtonRoyal, The Duke of York and The Earl and Countess of Wessex are also in attendance at the #USStateVisit banquet at Buckingham Palace. pic.twitter.com/rSWSNV1FKn

— The Royal Family (@RoyalFamily) June 3, 2019
It was the couple's second banquet since visiting the royal family. The first took place on Monday when Melania again looked gorgeous in a sleeveless white gown which she paired with long white gloves.