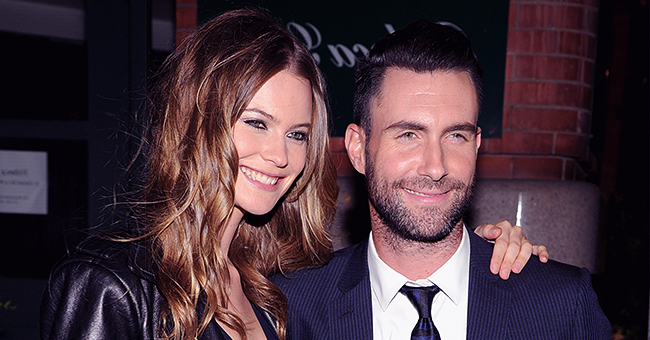 Getty Images
Adam Levine's Wife Breaks Silence on His Sudden Exit from 'The Voice'
While fans of the singing competition series are devastated over the surprising news of Adam Levine leaving the show after 16 seasons, his wife sees it as good news.
31-year-old model Behati Prinsloo, wife of the "Maroon 5" singer and former judge on "The Voice," finally shared her opinion about 40-year-old Adam Levine's departure from the show he helped become a sensation since day 1.
Prinsloo, who shares daughters Dusty Rose, 2, and Gio Grace, 1, with Levine, visited "Today" on June 5 to talk about her passion project saving rhinos in her home country Namibia, and she touched the subject of Levine's newfound free time.
"Good news for me, good news for the kids. He is on tour at the moment. He is excited to get home and for the first time have nothing to do. I'm like, 'What am I going to do with him?'" the Victoria's Secret model said.
Despite the busy schedule the husband and wife have, they have managed to enjoy every minute they have with their two little daughters, and Prinsloo opened up about how the experience has been for her so far.
"It's going great. I'm in it. I'm in the middle of it. It's amazing. Motherhood I think as you all know, it's such an incredible experience and really something that you take so seriously and gives you so much joy. We are having fun," she said.
Levine will continue to pursue other professional projects outside "The Voice," naturally. First of all, he will spend summer touring the US with his band, and he also just launched "Songland" on NBC, serving as the show's executive producer.
But not having to work with a team of coachees on a regular basis and not having to appear in front of the cameras week after week will certainly open some spare time for Levine to be with his family, and Prinsloo can't wait for that.
After old, one of Levine's main reasons to leave "The Voice" reportedly was to dedicate himself to his wife and children, especially now that their daughters are so little and in need of so much care and attention.
Prinsloo is committed to her wildlife advocacy back in Namibia with the Save the Rhino Trust, and since she has to travel to the African country regularly, it will come handy to have Levine at home with the girls sometimes.
Even while their careers make it difficult for them to have as much free time to spend together as they wish, it was their work what allowed them to meet back in 2012, when a mutual friend recommended Prinsloo to Levine, who was searching for a model who could also do some action scenes for a "Maroon 5" music video.
Although the video in question never came to be, the two stayed in touch via e-mail. By the time they finally met after a month writing to each other, they had to admit that they were in love.
After a brief split that the too quickly understood to be a mistake, they got engaged in 2013 and married in July the following year.
In 2016 they started their own family with the arrival of Dusy Rose, followed by Gio Grace in 2018, and while they want the family to keep expanding, they haven't reached an agreement on exactly how many other children they would like.
"Adam, yeah, he wants five. I thought I wanted five, but now I think maybe three or four would be good," Prinsloo shared in a recent appearance on "The Ellen DeGeneres Show."
Please fill in your e-mail so we can share with you our top stories!