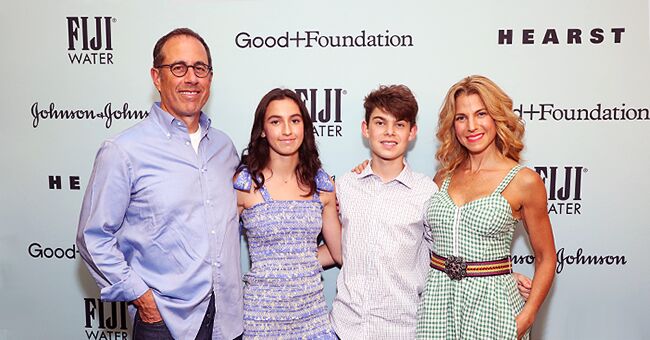 Getty Images
Jerry Seinfeld's Children Are All Grown up and Look like Their Parents (Photos)
Jerry Seinfeld and his wife Jessica recently made a public appearance with their two equally good-looking children.
PEOPLE shared an Instagram photo showing the beautiful family during the annual gala organized by Jessica's charity, GOOD+ Foundation, in New York City.
"You feel possessive and protective, but I refuse to be one of those disapproving dads."
The couple's daughter Sascha, 18, and son, Shepherd Kellen, 13, looked dapper as they posed for photos with their famous parents.
Sascha donned a stylish blue frock while her younger brother came in a collared shirt paired with shorts and sneakers.
Jessica looked gorgeous in a green-and-white gingham dress while Jerry sported blue button-down jeans and black sneakers. The couple are also parents to daughter Julian, 16, who was not present at the event.
DISMANTLING POVERTY
Jessica is the founder and CEO of the charitable organization which aims to break inter-generational poverty by pairing tangible goods with innovative services for low-income fathers, mothers, and caregivers.
Jerry serves as chair of the organization's Fatherhood Leadership Council.
A stand-up comedian, Jerry is best known for playing himself in the sitcom "Seinfeld." He was hailed as the "12th Greatest Stand-Up Comedian of All Time" by Comedy Central in 2005.
NOT A "DISAPPROVING DAD"
Speaking to journalists at the party, Jerry opened up about fatherhood and explained why he refuses to be a "disapproving dad."
He revealed that he has a good relationship with his teenage daughter's boyfriend. He said that he didn't want Sascha's boyfriend to experience the same treatment he was given by his past girlfriends' fathers.
"I really was determined not to be those dads," he said. "I hated those dads when I was a kid dating, and you would go to a girl's house, and the father would be so mean, and I don't want to be that guy."
"You feel those feelings. You feel possessive and protective, but I refuse to be one of those disapproving dads."
Jerry Seinfeld truly is as competent a comedian as he is a father.
Please fill in your e-mail so we can share with you our top stories!