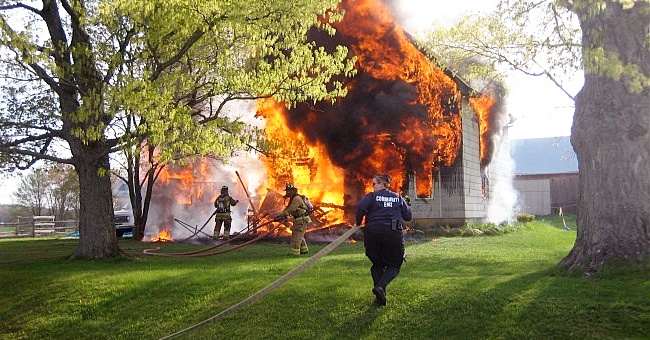 flickr.com/Scott Teresi
Four Teens Bravely Save 90-Year-Old Neighbor from Her Burning Home
Four young Oklahoma boys put their lives on the line to rescue 90-year-old Catherine Ritchie from a fire in their neighborhood.
Recently, the bravery of these four teenagers, 17-year-old Wyatt Hall, 16-year-old Dylan Wick, 16-year-old Seth Byrd, and 14-year-old Nick Byrd from Oklahoma was showcased when they fought their way through a burning house to save an older woman.
The youngsters initially scheduled a hangout for that evening, but then they started to perceive something that "smelled kind of like burning rubber" next door. They located the house which was beginning to smoke out, hurriedly made their way to its occupant, and carried her out of the building.
On the other end, Catherine's statement revealed that the cause of the flames was unknown but that she intended to go to bed when the unfortunate incident occurred. She explained that her vision was blurred and that she passed out after a failed attempt to douse the fire, but was carried to safety by one of the boys.
According to her:
"I was getting ready for bed in the bathroom, I turned around, and my bed, the head of my bed, was covered in flame. The smoke was so bad; I couldn't see to get out of my room. I felt along the wall, and I went into the closet instead of the door to get out of the room. I finally did get to the door. This young boy was right there, he picked me up, and I said, 'I can walk,' and he said, we're getting out of here."
She continues to show her appreciation days after the fire incident, and she describes them as "special."
She is not the only one grateful for the efforts made by the boys. Her family members, including her children and grandchildren, also extended their heartfelt acknowledgment and seemed thankful to the heroes of the day.
Missy Ritchie Nicholas, one of Catherine's daughters, penned an open letter of thanks to the boys.
The letter contained the details of what happened on the day when they safely rescued her mom. Missy went on to talk about how much she admires the courage of the young boys, and how they proceeded to save her mom regardless of what might have happened to them.
She commended the boys' parents for raising responsible and helpful kids and concluded by dishing out several reasons to be thankful to the boys who still showered her mother with care and warmth after they got her out.
Please fill in your e-mail so we can share with you our top stories!