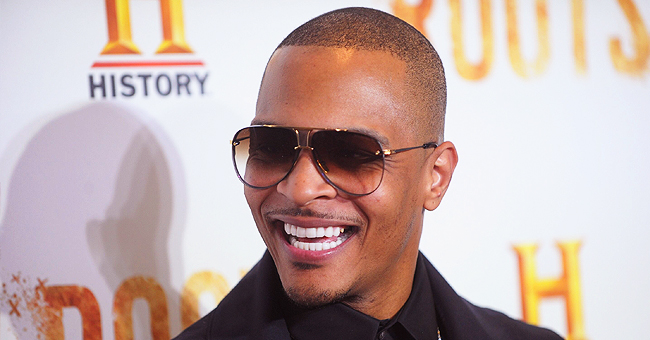 Getty images
Watch T.I.'s Conversation with 3-Year-Old 'Sharp as a Tack' Heiress by the Beach
American rapper T.I showed off his daddy skills recently when he took his baby girl to the beach and fans couldn't stop gushing about how adorable she looked.
The Atlanta rapper was on daddy duties, and he decided to take his little princess to the beach. The beautiful video shared by T.I featured one star, and it wasn't the rapper.
The cute little girl was beach-ready and had on a lovely skimpy dress, with strawberry designs all over it. But as soon as the clip started recording, Heiress's beauty and demeanor started to warm hearts.
The to and fro conversation that ensued between the father and daughter went thus:
"Do you want to jump in (the water)" she asked her dad. "No," the rapper answered before asking her the same question, which she also replied "No" to.
" Whose house is that," she asked, "it's just our neighbors" The rapper answered.
The duo didn't stop there and went on with:
"Oh look at the view, I wish you were here," she concluded, and she wasn't joking.
It really is a great view. T.I captioned the video,
"Daddy Daughter's ocean views & adventures."
This is not the first time Heiress's adorable nature has shone through. Just over a week ago, her elder sister Zonnique Pullins recorded a cute video of the 3-year-old Heiress as she was having an emotional outburst; her sister recorded it all.
Then all of a sudden, she started shouting "no" to the camera a couple of times when Zonnique threatened to call T.I. After bluffing that their dad was on the phone, Heiress immediately switched from menace to innocent; looked at the phone and said: "Hey daddy."
The mood change was so sweet that her mother, Tiny had to repost and comment on the video.
She wrote,
"I'm sure by now everyone can see why I'm so obsessed with lil baby of mine. She was screaming cause u said u was gonna call her daddy twice. She's nobody's fool #HeiressDianna TheRealQueenOfTheHouse ??."
T.I also posted the video and wrote,
"Idc what all ya say…. My baby innocent ?."
Tiny and T.I. share seven children, including Major, King, and baby Heiress, whom the couple bore together, sons Domani and Messiah and daughter Deyjah Harris are from T.I.'s previous relationships, and Pullins from Tiny's previous relationship.
Please fill in your e-mail so we can share with you our top stories!