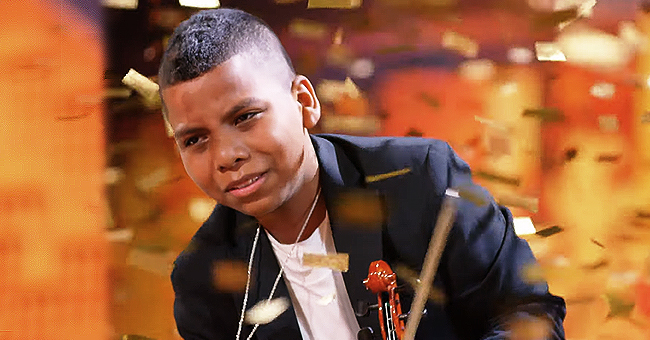 YouTube/America's Got Talent
Watch Cancer Survivor Violinist Wow AGT Crowd & Earn Simon Cowell's Golden Buzzer
Tyler Butler-Figueroa's audition in "America's Got Talent" has turned him into a viral sensation. The 11-year-old cancer survivor got the judges and audience choked up with his story, and after an incredible performance, he earned the Golden Buzzer from Simon Cowell in the flesh.
When Tyler Butler-Figueroa, from North Carolina, stepped on the stage of "AGT," he was ready to wow the judges with his skills on the violin.
Looking secure of himself, the young boy earned the judges' sympathy by sharing the moving story of why he learned to play the violin at 7: it was a distraction from the bullying he was suffering at school.
However, that was the minor of his problems, as he revealed he was battling cancer since age 4.
After sharing his emotional story, Tyler took a deep breath and gave producers the signal to start his showstopping performance.
THE BIG MOMENT
Moving across the stage while dancing and playing at the same time, Tyler immediately got the crowd on their feet to the rhythm of Kelly Clarkson's "Stronger (What Doesn't Kill You)" on his violin.
By the end of his rendition, all four judges—Simon Cowell, Gabrielle Union, Julianne Hough, and Howie Mandel—and the audience gave him a well-deserved standing ovation.
Hough immediately praised Tyler for "taking something that's one of the hardest things you'll ever have to go through and turning it around and finding something that brings you joy."
"We hear too many stories about people being bullied. But I can tell you one thing: most people are bullied because they are better than the people who bully them. I think you have such amazing talent, such personality."
"I would love to say something on your behalf to the bullies," Simon added with a smile as he reached over to press the Golden Buzzer, sending Tyler straight to the live shows and showering the boy—who ran to his mother's arms—in golden confetti.
"I'm feeling very proud of myself. I'm happy," Tyler told host Terry Crews in the middle of tears.
TYLER'S LIFE STORY
As revealed on the show, Tyler was only 4-year-old when he was diagnosed with acute lymphoblastic leukemia.
His mother Kisua recalled that one night they were out for dinner and she noticed something was off about her son. When her mother's instincts kicked in, she took Tyler to the emergency room and eventually, blood tests confirmed he had cancer. "It was the worst day of my life," she stated.
Tyler was treated with chemotherapy, and when his hair started to fall off, his schoolmates begun to bullying him and make fun of him.
"I was really sad and embarrassed at the same time to go to school," the boy recalled. "They used to make fun of me and laugh at me because I was different. They would spread rumors to say that my cancer was contagious, and they all wanted to stay away from me."
AN ESCAPE TO THE BAD THINGS
One day, when Tyler was 7, he noticed a flyer on the school about free-violin classes and begged his mom to let him join. Kisua was skeptical at first because no one in their family had played an instrument before, but she enrolled him anyway.
"Once he started that class, it was like a sunshine. He was just full of energy and happy. I was like, 'Oh my God, I got my son back,'" she said.
Tyler started practicing in class and his bedroom, and the more he did it, the better he became with the instrument.
"When I play the violin, it helps me forget about all the bad stuff. I just didn't want to be the kid with cancer. So now, I'm the kid who plays the violin," the young and brave boy stated.
The good news is that Tyler has been in remission for four years, and now he's ready to prove America what's he made of once the live shows begin in August. He will join viral sensation Kodi Lee and rapper Joseph Allen, the other two contestants that have received the Golden Buzzer so far.
Please fill in your e-mail so we can share with you our top stories!