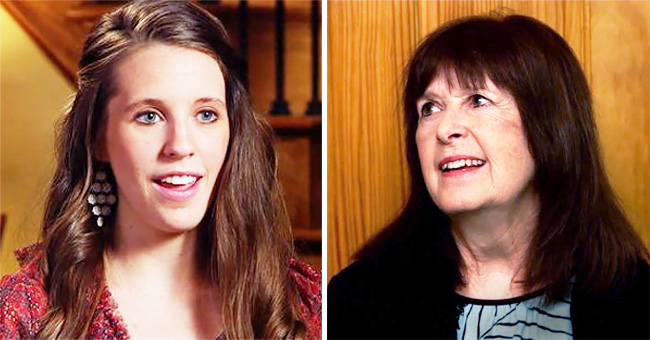 twitter.com/OKMagazine + twitter.com/TheAshleysRR
Jill Duggar Slammed by Fans for Using Her Dead Grandmother for Money
The Duggar family is grieving the loss of their beloved Mary Duggar, sweetly known as Grandma Duggar, but Jill Duggar has come under fire because of her recent tribute.
On June 11, just two days after her grandmother's passing, the 28-year-old took to her official Instagram page to share a post that left a lot of fans angry.
In the post, which featured a screenshot of her most recent blog entry titled "A Life Well Lived: Lessons My Grandma Taught Me," Jill urged people to visit the website.
BRANDED IMMATURE BY THE CRITICS
While several fans and followers rushed to send their condolences to the family and offer their support in these hard times, some accused Jill of trying to profit from her grandmother's death.
According to some of the people who interacted with the post, she was very disrespectful and showed a complete lack of emotional maturity by the way she chose to honor Mary.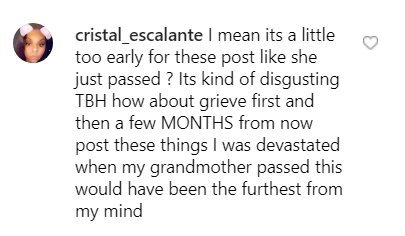 Photo: Instagram/jillmdillard
A user by the name of "peachymtnmomma" told Jill that she was stooping to a new low and that her grandmother wouldn't have appreciated her monetizing her death.
The 28-year-old was also condemned for using too many emojis, exclamation points and hashtags, which, according to a Reddit user, is "the opposite of sincere." The winking emoji was particularly criticized.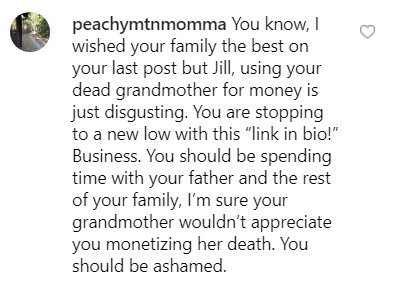 Photo: Instagram/jillmdillard
MARY'S ALLEGED CAUSE OF DEATH
So far, Jill is yet to issue a response addressing her critics, but Grandma Duggar's cause of death might have been revealed in a report published by Radar Online.
The claim is yet to be confirmed, but the publication shared that a team of paramedics responded to a "possible drowning" at the Duggar's residency at 4:37 p.m on Sunday.
It has been reported that the 78-year-old might have slipped and drowned in the swimming pool, a claim supported by Washington County Coroner Roger W. Morris.
The Duggar family later announced Grandma Duggar's passing on Facebook. She is survived by daughter Deanna and son Jim Bob, as well as 21 grandchildren and 13 great-grandchildren.
Please fill in your e-mail so we can share with you our top stories!