Hilarious Rare Video of George HW and Barbara Bush Proves Their Sense of Humor Was Golden
Late former US President George H.W. Bush would have turned 95 on June 12, hadn't he passed on November 30, and to mark the occasion, an NBC news anchor showed a lesser-known side to Mr. and Mrs. Bush.
As he did on late former First Lady Barbara Bush's most recent birthday, NBC news anchor Carl Quintanilla took to Twitter to share a rare clip of her and husband George H.W. Bush being silly during a joint interview.
"I tweeted this blooper reel last weekend for Barbara Bush's birthday — and am re-posting for GHWB, who would have turned 95 today," Quintanilla captioned the 2-minute clip that features the elderly couple making each other laugh.
The United States Postal Service has issued a forever stamp commemorating George HW Bush on his 95th birthday. https://t.co/UJQszTzG2e

— Eyewitness News (@wchs8fox11) June 13, 2019
BLOOPERS
The cute video was part of the behind the scenes of a TV special titled "Bob Hope's Laughing with the Presidents," and in the spirit of the show, George and Barbara couldn't stop fooling as they tried to talk about their dog Millie.
George HW Bush was a President, a war hero, and a family man. The love he felt for his wife Barbara was so inspiring. I'll bet she was waiting for him with her arms open. I never met him, but you just knew he was a good man. Rest In Peace, kind sir. 💔 God Bless his family. pic.twitter.com/JLC0cjNPWA

— Janice Dean (@JaniceDean) December 1, 2018
The two have such a hard time trying to get serious in front of the cameras that in one point George tries to get it together. 
"Come on, these guys are busy. They want to do it over again, you hammed it up," he is heard saying in the footage.
I tweeted this blooper reel last weekend for Barbara Bush's birthday — and am re-posting for GHWB, who would have turned 95 today.#RIP pic.twitter.com/WlXS62RnIL

— Carl Quintanilla (@carlquintanilla) June 12, 2019
A MESSAGE FROM THEIR GRANDDAUGHTER
The former First Couple's granddaughter Jenna Bush Hager also used social media to pay tribute to her grandfather on the date of his birth, taking to Instagram to share a touching message.
"Happy Birthday dear Gamps! Today: I imagine the empty chairs next to you filled with those you love," the "Today" correspondent captioned a black and white photo of George holding hands with his great-granddaughter Mila, Jenna's daughter. 
"Gans, no doubt next to you, holding your hand. Love you more than tongue can tell," the 37-year-old added.
"Gans," is the affectionate nickname Jenna gave to her grandmother Barbara, who would have turned 94 years old on June 9, but she passed away in April 2018, months before her husband of 73 years followed.
On this Valentine's Day, watch George H.W. and Barbara Bush share their touching love letters on TODAY in 2011 (and try not to cry!) pic.twitter.com/AhY7MNYcgO

— TODAY (@TODAYshow) February 14, 2017
QUITE THE LOVE STORY
George and Barbara had a love story that seems out of a romantic film, as the two appeared to be destined to spend a lifetime together. They were born a little more than a year apart and passed away on the same year.
They also hold the record as the longest US presidential marriage in history. They made for the first time in a dance in Connecticut in 1941, when the two were still highschool students, without imagining they were going to start a political dynasty.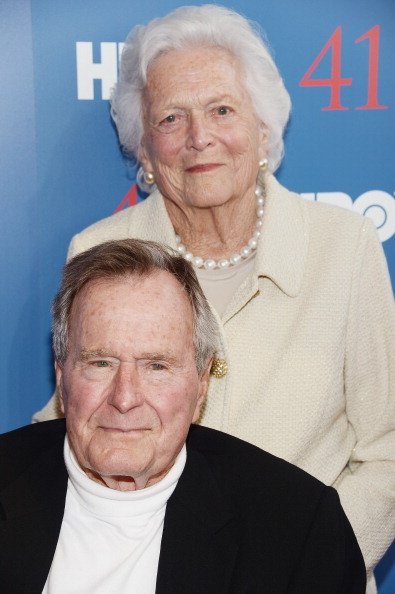 The two immediately took to each other, but they had to resort to having a long-distance relationship in the beginning, as George went to school in Massachusetts while Barbara did so in South Carolina.
One and a half years later, when the two became adults and George was about to go abroad to serve the country in World War II, they got engaged. By January 6, 1945, the two were married, and the rest is history.