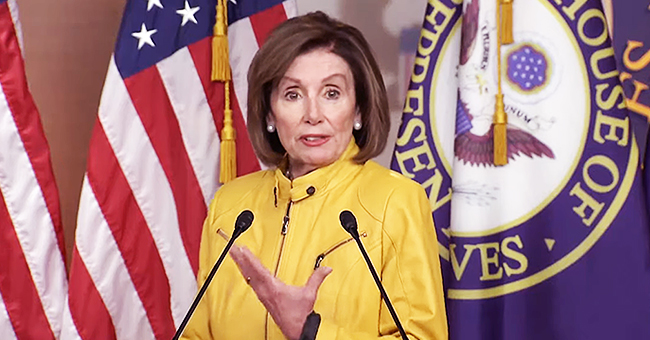 youtube.com/NowThis News
Nancy Pelosi Wears a Snazzy Mustard-Yellow Leather Jacket in Honor of the Golden State Warriors

California representative and Speaker of the House, Nancy Pelosi rocked an eye-catching leather jacket in the colours of her favourite Basketball team, Golden State Warrior.
Nancy Pelosi is fast becoming a fashion trendsetter even at her age. Having rocked a trendy orange Max Mara Coat some months back, the Speaker of the House made another fashion statement with her trendy mustard-yellow leather jacket.
She appeared in the jacket on Thursday while delivering a speech at a Capitol Hill Press conference. The speaker later confirmed that she picked the colour in honour of the Golden State Warriors, her favourite basketball team.
PELOSI'S LOVE FOR THE WARRIORS
The Speaker wore the jacket to honour her favourite team, the Golden State Warriors, who were to play the Toronto Raptors in the Finals of the NBA 2018/2019 season.
She told reporters to see her jacket, also affirming that it was for the Warriors team. The jacket, stylish at best had a zipper and a bright hue. The speaker added some swag to the outfit by rolling up the sleeves.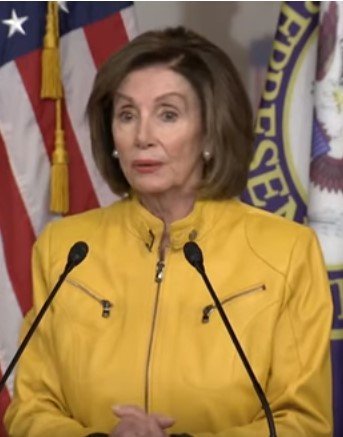 Photo of Nancy Pelosi | Photo: Youtube / NowThis News
PELOSI'S FRIENDLY FINALS WAGER
The speaker also told reporters that she made a friendly wager with the Prime Minister of Canada, Justin Trudeau, on the outcome of the NBA finals. The Canadian Prime Minister is naturally a fan of the Toronto Raptors, and he accepted the wager.
The wager stipulates that if the Warriors win the finals, the Prime Minister would have to send the Speaker a top collection of Canadian delicacies. If the Raptors emerged victoriously, the Speaker would have to send some of her top collections from California to the Prime Minister.
As it stands, it looks as if the speaker would be sending some delicacies to Canada as the Raptors overcame an injury-ravaged Warriors team 4-2 to clinch the NBA Championships.
PELOSI AND TRUMP'S BATTLES CONTINUE TO RAGE
Since becoming House Speaker in January, Nancy Pelosi and President Trump have continued to be at loggerheads with one another. The latest tension between the two leaders came following the president's attack on Pelosi after a report claimed the speaker told fellow Democrats that she wanted to see Trump in prison.
The President responded to that report by lashing out at the speaker during an Interview with Fox News at the Normandy Cemetery in France. He called her a terrible person and tagged her a disaster. In a swift response, the speaker derided the President for coming at her, saying she felt sorry for him.
Please fill in your e-mail so we can share with you our top stories!