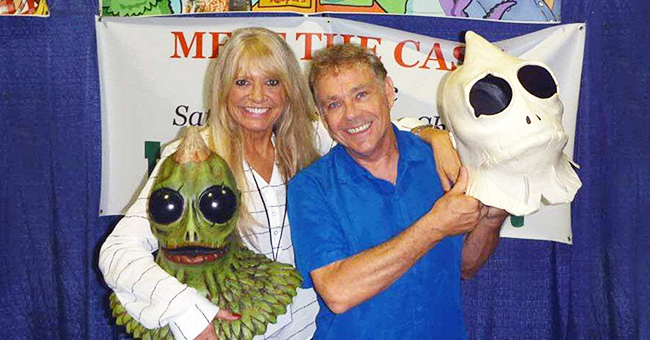 twitter.com/hburgamerican
'Days of Our Lives' Wesley Eure Once Revealed He Got Fired from the Show Because of His Sexuality
In 2009, almost 30 years since his departure from long-running soap opera "Days of Our Lives," the actor came up as gay and he revealed what his sexual orientation meant for his career.
67-year-old Wesley Eure has always kept his sexuality in the open, but it wasn't until ten years ago when he addressed the subject for the press, sharing some inside information about what it was like to be a gay man in Hollywood in the 70s.
Although mostly remembered for his debut role as young Will Marshall in the science fiction children's TV series "Land of The Lost" from 1974 to 1976, the actor also had a ten-year run on NBC's "Days of Our Lives," and according to him, he was fired from the show because of his sexual orientation.
COMING OUT
Ahead of the premiere of the feature film remake of "Land of The Lost" starring Will Ferrell, where Eure was in attendance, the former teen idol used the opportunity to officially come out and make some surprising revelations.
When he was asked if he thought that being gay hurt his career, he without a doubt responded affirmatively.
"That's the kind of fear that existed, and still exists today. As much as we can come out, as much as we say it's okay. Neil Patrick Harris came out and it didn't hurt him, but that was a choice he made."
"It was a horrible time in Hollywood, being gay. It was horrible. I was on the cover of Tiger Beat and all those a lot, and they'd do those "Win A Date With Wesley" and "Who's Wesley Dating?" It was so disingenuous," he shared.
"I had a full life. I've had a lot of friends and some pretty high profile partners, and it was an odd thing. I got fired from 'Days of Our Lives for being gay'," Eure claimed.
While the official reason for NBC to let him go from the soap opera was that his nine-year contract was up, Eure also argues that he later lost his job as hit TV host for Nickelodeon's "Finders Keepers" for his homosexuality when the series was sold to Fox.
"We heard the show was being sold to Fox. Everybody else was celebrating and I went, 'Oh, no. I'm out of a job.' Sure enough. I waited, I kept calling, 'Am I hosting the show?' They wouldn't answer the question, and then I got the call they went with somebody younger," he recalled.
CONTRADICTORY TIMES
Eure pointed out to the contradictions in the entertainment industry at the time. While the TV networks and some of the media did everything possible to invisibilize his sexuality, he was also named in a public list of TV and film gay men in the 70s.
He also questioned the fact that even when openly gay men came to positions of power in Hollywood they perpetuated the marginalization of homosexual actors, instead of pushing for acceptation.
"I knew Fox and NBC were run by gay men at the time, but what was odd about the industry at the time, it was amazing how the gay men were perpetuating the damage," Eure reflected.
HE WAS INVOLVED WITH AN OLDER ACTOR
In another bombshell revelation, Eure opened up about his relationship with older actor Richard Chamberlain, now 85 years old and known for his role of Dr. Kildare back in the 60s in the TV show of the same name.
"We lived together, he was at my place. We broke up. He met Martin, who he's with now for all these years," Eure said.
"It's great for him. It broke my heart. I was destroyed. I was a kid, and he was a much older guy," he added.
Not long after the devastating breakup, Chamberlain was called out as gay by the gossip media, with Eure fearing that his name was going to be mentioned in relation to the controversy.
"That's the kind of fear that existed, and still exists today. As much as we can come out, as much as we say it's okay. Neil Patrick Harris came out and it didn't hurt him, but that was a choice he made," the actor stated.
MOVING ON
After "Finders Keepers," Eure's career was never the same, but he found a way to reinvent himself once again, doing some comedy and reality TV in "Totally Hidden Video" from 1989 to 1992 and landing two film roles in 2013 and 2014.
Behind the cameras, Eure went on to develop the animated series "Dragon Tales," which aired from 1999 to 2005.
Besides his work in the entertainment industry, Eure has devoted himself to the HIV/AIDS advocacy, helping organize fundraising events, long before he publicly came out, having lost most of his friends to the AIDS crisis.
Please fill in your e-mail so we can share with you our top stories!