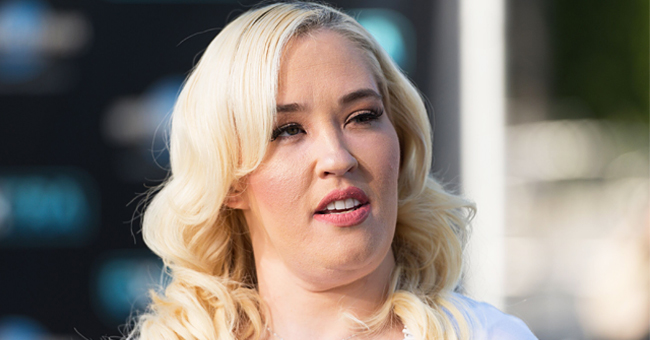 Getty images
Mama June's Boyfriend Crashes Car into Her Garage (Video)
Mama June's boyfriend Geno Doak is proving to be more dangerous than we thought as video shows the aftermath of an alleged crash into the star's garage door.
A video clip attained by TMZ reportedly showed just after Doak alerted "Mama June" Shannon to his plight by honking the horn of his black SUV and drawing her outside of her home to the garage.
June then entered the car from the passenger's side and presumably helped him unbuckle his seatbelt so that he could exit the vehicle. The clip, filmed by a neighbor, is found below.
June is donned in a purple negligee and holds onto a black robe in the video. Doak comes around, pants down and bum out, and is unable to walk in a straight line. He stumbles about as he follows June.
In fact, he can barely stay upright as he attempts to make his way to the front door. When the latter tries to help Doak with his pants, he swats away her hand.
The reality star continues on and Doak walks behind her. But about halfway to the house, Doak again doubles back and leans inside the passenger seat. The video ends there.
It's unknown whether Doak was drunk or high, but either way, he clearly should not have been behind the wheel. Doak's presence in June's life has been in question since the two were arrested back in March.
They were charged with possession of crack cocaine and drug paraphernalia following a fight at an Alabama gas station. Doak also received a domestic violence charge.
June, who stars in WE tv's "Mama June: From Not to Hot," compelled her family to stage an intervention on the last episode of the show. In a sneak peek, June's daughter Alana Thompson broke down in front of her mother.
"Mama, I would love to come home and stay with you — tell you about my day, but I can't do that because I'm scared," Thompson, best-known as "Honey Boo Boo," tearfully tells her mother.
The 13-year-old was forced to move out of her mother's home and live with her 19-year-old sister Lauryn Shannon due to June's poor decisions. Thompson and Lauryn begged their mother to go to a rehabilitation center.
They were shut down by June, even when confronted with the possibility of death if she continued down the path she was on. June refused to go "away," and Lauryn suggested it's only because of Doak's cheating ways.
Meanwhile, June's ex-boyfriend Mike Thompson, aka "Sugar Bear," has moved on to greater things with his new love. His partner Jennifer Thompson posted a photo to Instagram announcing the pair's engagement.
Thompson shared a picture of her finger adorned with a large diamond ring. This would, of course, be the second time the pair got married. They had a ceremony in the show's previous season — but June crashed into that one.
Based on last season's finale though, June is on board this time for the sake of Thompson, who is also Sugar Bear's daughter. "I've got to fix this," she stated. The show has not yet announced a return date.
Please fill in your e-mail so we can share with you our top stories!