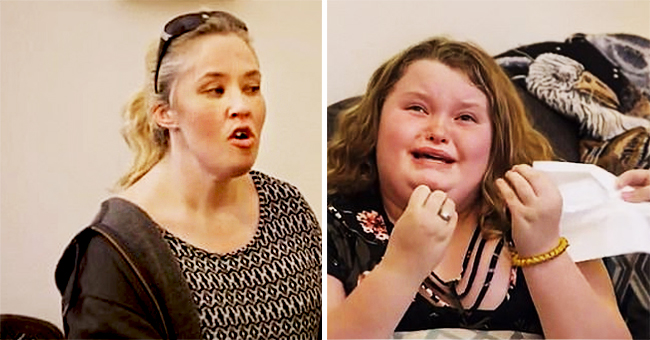 youtube.com/Entertainment Tonight
Honey Boo Boo Desperately Begs Mama June to Seek Rehab
June Shannon, best known for the reality show "Mama June: From Not to Hot," has been going through a very difficult time lately due to her addiction to drugs.
Her condition is so severe that her daughters Honey Boo Boo, whose real name is Alana Thompson, and Pumpkin, also known as Lauryn Thompson, set up an intervention for her.
Not only June's daughters but also her friends involved in the therapeutic session begged her to go to rehab. However, June got dramatically defensive and wouldn't accept anything.
"Girl, unless he wears a diaper you can't change him."
THE INTERVENTION
In the exclusive sneak peek of the upcoming episode of "From Not to Hot," Alana told her mother that she was staying with her sister because she had no other option, but June didn't get it.
"I would love to come home and stay with you and tell you about my day, but I can't do that because I'm scared. I'm not even gonna lie to you, I'm scared to stay at your house," Alana told June.
"DO YOU WANNA DIE?"
Then, Alana asked her mother if she wanted to die and whether or not she wanted to meet her grandchildren or see her getting married, letting her know that if she didn't get her life together, she wouldn't survive.
All June could say was that she didn't want to go to a mental facility or be away. In a separate interview, Lauryn noted that the reason her mother didn't want to be away was that she couldn't control her boyfriend Geno Doak, who Lauryn says is a cheater.
GETTING ARRESTED
June's drug problems have been getting worse over time. In March this year, she was arrested for possession of crack cocaine and misdemeanor possession of an apparent crack cocaine pipe. Doak was arrested for domestic violence and possession of a controlled substance and drug paraphernalia.
Before that, Lauryn retweeted some cryptic messages hinting that she could be considering leaving her mother and Doak.
It appears her decision could be based on the fact that her mother has a somewhat problematic relationship with her ex-convict boyfriend. One of the tweets read: "Girl, unless he wears a diaper, you can't change him."
The rest of the intervention is set to be aired on the next episode of the show.
Please fill in your e-mail so we can share with you our top stories!