Anderson Cooper Bids Farewell to Late Mother Gloria Vanderbilt Ahead of Her Burial
CNN reporter Anderson Cooper was recently spotted overseeing funeral preparations for his mother, Gloria Vanderbilt. The TV host was joined at the event by ex-boyfriends Ben Maisaini and Julio Recio.
It was a sad day for CNN reporter, Cooper. In an image shared by the DailyMail on Twitter, the TV personality could be seen wearing a solemn look as he watched his mother's coffin taken out of the funeral home.
In the image, a group of men could be seen trying to carefully load the coffin into a car in a bid to transport it from the Upper East Side funeral house to the burial site.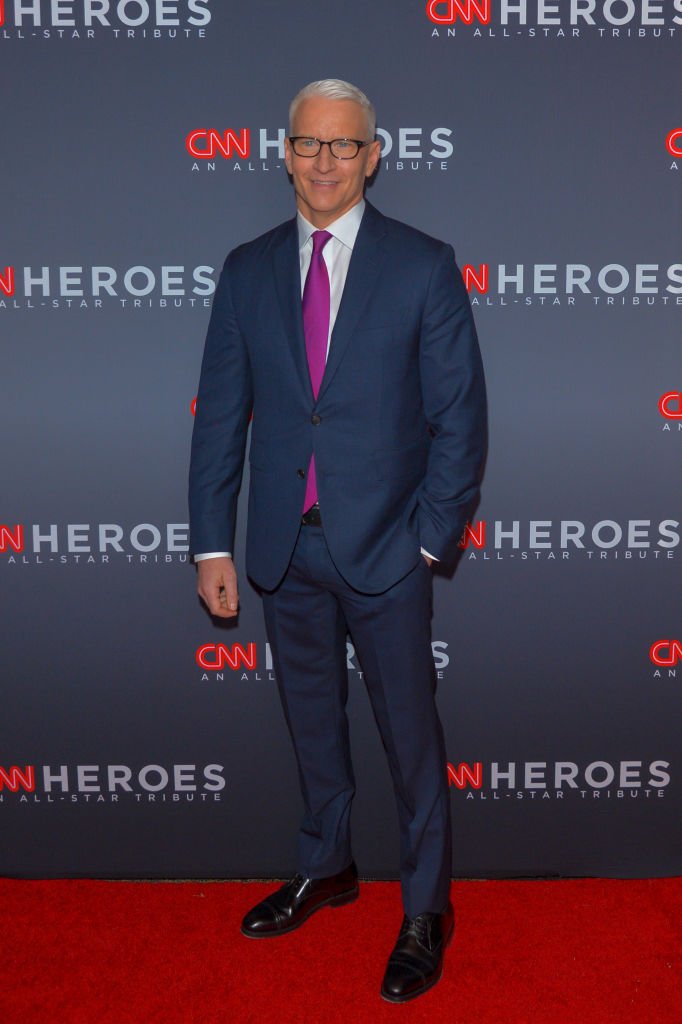 Anderson, who was joined by ex-boyfriends, Ben, and Julio, stood behind the men who were doing the lifting and looked on with a mournful face.
At the time of the funeral, Cooper and Ben, who were together for almost a decade, had only broken up for about a year.
Julio, on the other hand, was with the news anchor between 2004 and 2009. The two, however, came to show their immense support to their ex, who undoubtedly needed it at this particular trying time.
The grieving son saw his mother's coffin taken from an Upper East Side funeral home and loaded into a hearse ahead of the burial service.
It has been reported that the late 95-year-old fashion icon will be buried alongside her fourth husband, Wyatt Cooper, and son Carter Vanderbilt in Staten Island.
Heartbroken Anderson Cooper says goodbye to mom Gloria Vanderbilt as her coffin is carried out ahead of burial service https://t.co/uTJJTMV7dk pic.twitter.com/GbyifqDvKq

— Daily Mail US (@DailyMail) June 18, 2019
THE LAST ONE STANDING
Unfortunately, with his mother's death on Monday, June 17, Cooper lost the last close relative he had after losing his father to open-heart surgery in 1978. He was only ten at the time.
Ten years after, at the age of twenty-one, the TV anchor lost his older brother, Carter, to suicide in 1988. With these losses, Cooper is left alone with his estranged brothers from his mother's second marriage.
At the burial, Vanderbilt's sons from her second marriage, Leopold Stanislaus Stokowski and Christopher Stokowski were nowhere to be found, and it is unclear whether they will attend the funeral service.
Even though Stanislaus, or Stan, as he is commonly known, had a very close relationship with his mother, the same can't be said for Christopher, who had been estranged for more than 40 years.
COOPER AND VANDERBILT'S SHARED GRIEF
During the HBO documentary "Nothing Left Unsaid," Vanderbilt and Cooper were seen visiting the plot where Carter was buried after jumping off a balcony in Manhattan.
At the time, Cooper was only 21 years old and Carter's death was devastating for him and his mother, who will now be able to rest alongside her son.
REMEMBERING THE FASHION ICON
Cooper, now 52, honored his mother through social media. He revealed that Vanderbilt believed in love more than anyone, and that love was her guide and solace. He wrote:
"'I love you, you know that,' she would say to me, and I did, I knew it from the moment I was born, and I will know it till the moment I die. It was her greatest gift to me."
VANDERBILT'S CANCER DIAGNOSIS
The author, fashion icon, and artist died at the age of 95 after being diagnosed with an advanced form of stomach cancer.
Although she lived a good life, it was still too soon for Anderson Cooper, who gave a touching tribute to her after her passing on a segment of his show, "Anderson Cooper 360."
Cooper revealed that the diagnosis was made just eight days before his mother's demise. However, he was grateful to have spent those days by her side, caring for her all through the way. He said:
"They were the most extraordinary days of my life, and I'm very grateful."
He also revealed that he was holding her hand and her head as she gave up the ghost. He ended by stating how hard the thought that she is gone is for him still.
THE SUPPORT OF A LONGTIME FRIEND
Despite the painful moment that Cooper is going through, he has people who care for him by his side, and good friend Andy Cohen is one of them.
The television host has offered his support to Cooper and paid tribute to Vanderbilt with a heartfelt Instagram post, where he noted that his friend got his "iconic and infectious giggle" from his mother.