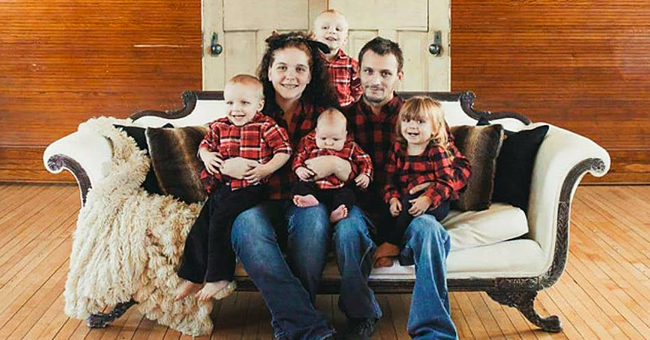 facebook.com/lovestrack
Dad-of-4 Tragically Drowned While Trying to Save 3-Year-Old Son Who Fell off a Bridge
A Minnesota dad performed the most heroic act when he jumped off a bridge to save his 3-year-old son but sadly ended up paying the ultimate price.
While families around the world were happily celebrating Father's Day, a family in Minnesota was mourning the death of Christopher Schultz, the man who jumped off a bridge to save his 3-year-old son.
According to news reports, 31-year-old Schultz and his son, Ashton took a walk on the bridge over Dead Shot Bay, and the deceased, a recreational fisherman, stopped with the toddler to look at a fish.
The deceased was pointing the fish out to the little boy when he slipped and fell into the water underneath. Immediately, Schultz's parental instinct kicked in, and he jumped in after his son.
The father-of-four was able to rescue his child; he brought him out and lifted little Ashton above the water with his two hands until a bystander took the toddler from him. All these happened while the deceased struggled to stay afloat.
After the little boy got taken from his father's hand, the Frazee resident, submerged into the water and never resurfaced. Police mounted a search for Schultz after he disappeared with the help of divers and a local fisherman, and after searching for an hour, they found him.
The heroic father was pronounced dead at the hospital, and his wife Chelsie Schultz is still trying to come to terms with the fact that her husband and the father of her children, is gone. According to Today, the mother-of-four described her husband as a hero who would have done the same thing for any child asides, Ashton. She is comforted, knowing that he lives on in their son.
Bill Nickum, a resident of Frazee, said the water the deceased fell into was deep, difficult to swim, and had a strong current. In his words, there is no greater sacrifice than the one Schultz gave, and he hopes the little boy grow up to be worthy of it.
It turns out that a lot of fathers' are superheroes to their children; like the deceased, Brad Lewis, jumped off the balcony with his youngest son, Oscar, using his body to cushion their fall.
Father and son were playing on the balcony of a friend's home when the little boy went to see where his Nerf bullets fell. In the process, he tripped over and started to fall, and as the 42-year-old Aussie man tried to pull him back, they both went over the railing.
Although none of them died, Lewis suffered life-threatening injuries, and his doctors said it was a miracle he survived.
The funeral arrangements for Schultz is underway, and his family opened a GoFundMe account to raise money for the burial; so far, they have raised over a thousand Dollars.
Please fill in your e-mail so we can share with you our top stories!