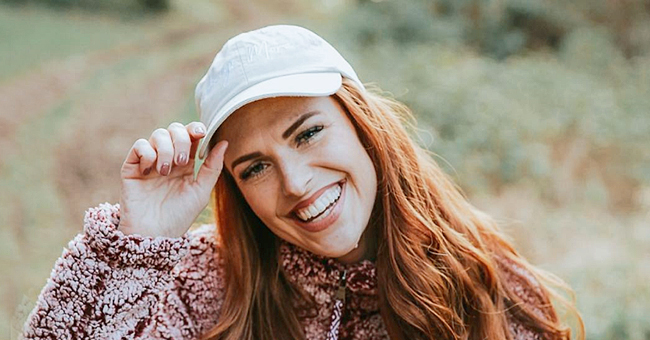 instagram.com/audreyroloff
Audrey Roloff Shares New Photos of Daughter after Being Slammed for 'Blanket' Parenting Technique

Famous "Little People, Big World" star, Audrey Roloff took to Instagram to share photos of her little daughter amidst the widespread controversy surrounding her parenting methods.
The famous author is rather well known on Instagram and currently has a massive fan following of over one million! About a week ago, Audrey, ever the doting mother, shared photos of her baby daughter, Ember with her followers.
There are three photos in total, and they are all taken outdoors with Ember dressed in a cute little pink dress. She looked liked she might have stepped out a countryside with her blonde hair tied back with a ribbon and small brown leather shoes covering her little feet as she stood in the grass.
The highlight of the picture, however, remains Ember's adorable expressions. While she gives a gentle smile in the first, the second has her smiling so full and happy too with her eyes wrinkled.
It is a rather infectious one, and it is not surprising to find that the picture has already amassed well over 50,000 likes and hundreds of comments.
Some people expressed awe at Ember, bearing a striking resemblance to her beautiful reality star grandmother, Amy Roloff. Many others, however, like the scenic setting of the picture and of course, Ember's gorgeous smile. Audrey said sweetly in her caption:
"My little sunshine girl. Cute aggression is at an all-time max."
Photos like these are one reason Audrey's Instagram page is so popular as it is. Unfortunately, not all of her posts are well-received. Quite recently, the reality star went under fire after she publicly shared her parenting methods with fans via Instagram story.
Audrey, who is currently married to Jeremy Roloff, startled people when she came forward to suggest the "blanket time" technique. In the somewhat viral clip, she disclosed that she sets aside "blanket time" to train Ember. Audrey explained:
"We would basically just say, 'stay on the blanket,' and if she crawled off the blanket we would just put her back on the blanket and only did it for, you know, a few minutes at a time when she was younger."
She even went on to recall that she and Jeremy first started practising this when Ember was just six years old. Now that she is older, the couple has increased the time she uses on the blanket. That quickly became an infamous fact about the family as it didn't sit too well with many.
Netizens took to Reddit to air their opinions about Audrey's revelation with many labelling the "blanket" method cruel. Many fear that Audrey and Jeremy are doing considerable damage to pretty little Ember, but at least, there are photos like these that reassure everyone that Ember is happy.
Please fill in your e-mail so we can share with you our top stories!