Rihanna Turns Heads in a Tiny Pink Dress at a Fenty X The Webster Cocktail Event
Rihanna attracted a lot of attention during a Fenty event at The Webster in New York City rocking a beautiful pink dress and long braids.
The celebration was supposed to be a launch party for her latest Fenty clothing collection. Even though Rihanna was the star, she arrived three hours late, reported Mirror.
It was worth it, though, as the 31-year-old singer arrived at The Webster, located in New York's SoHo area, displaying her beautiful curves wearing a tiny pink dress from the collection of the event.
HER BEAUTIFUL DRESS
Apart from the fact that she was not wearing a bra, the "Diamond" singer's dress was sleeveless and had a sensual lace-up detail on the side that showed her tattoos. As for her shoes, Rihanna opted for high heels matching the color of the dress.
While her clothes were stunning, her hair was one of the highlights of the night as it had a reddish tone and she wore it in long, tight braids.
HER STUNNING ACCESSORIES
Rihanna's accessories were as gorgeous as her dress. The singer put on big earrings with stones in colors ranging green, black, orange, and pale blue. Her set of false nails was also pale blue. Finally, she chose many diamond bracelets and rings from David Webb Jewelry that gave her outfit the final stylish touch.
While arriving three hours late to her own launch party is shocking, it is not the first time that one of the most famous pop singers has made some headlines. She opened up about different aspects of her life in the cover story of Interview Magazine's summer 2019 issue.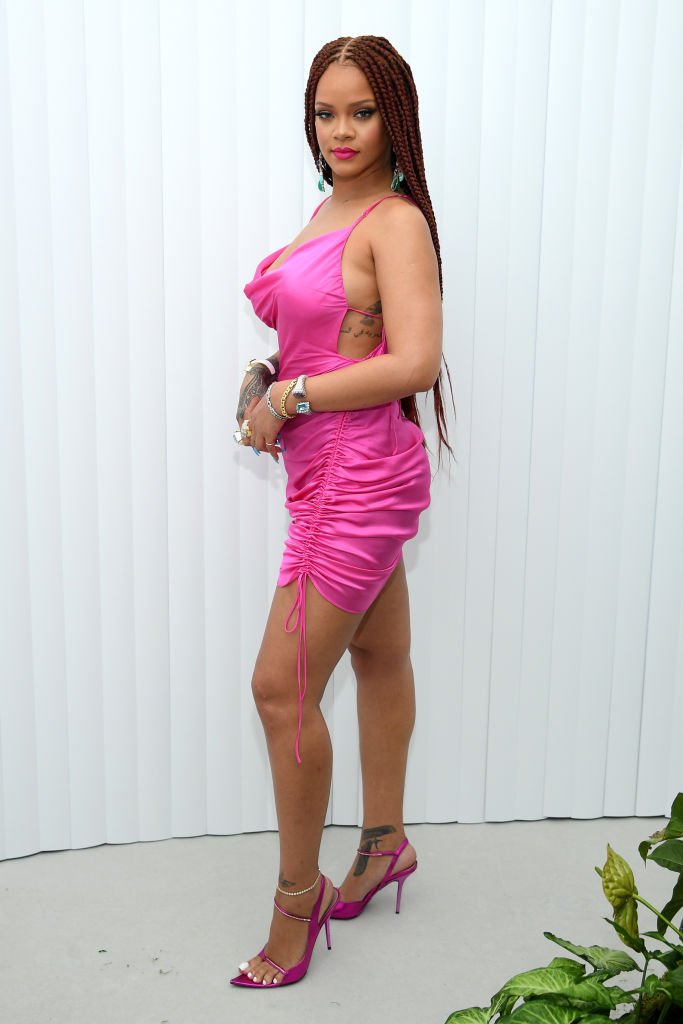 HER INTERVIEW WITH SARAH PAULSON
One of the things that Rihanna revealed in the interview, hosted by Sarah Paulson, was how religious she is as the first thing she does after waking up in the morning is praying.
"My grandmother was the one who started me on this. She gave me a devotion book, a physical one. It was the last thing she gave me before she passed away," she pointed out.
Rihanna is living the literal dream life on Italy's Amalfi Coast w/ her billionaire boyfriend Hassan Jameel right now.

RiRi & Jameel have been publicly together for nearly 2 years now. They were first photographed making out in Spain, aka another European paradise, in June 2017. pic.twitter.com/9eQ7HyKFKw

— Affinity Magazine (@TheAffinityMag) June 8, 2019
HER THOUGHTS ON A WEDDING
Apart from that, Sarah asked her "Ocean's 8" co-star who she was dating, but Rihanna said, "Google it." She has reportedly been dating her billionaire boyfriend Hassan Jameel for a couple of years already, but they have kept their relationship under the wraps.
Sarah knew it, and she asked the singer if she would be tying the knot. After a pause, Rihanna said, "Only God knows that, girl. We plan, and god laughs, right?"