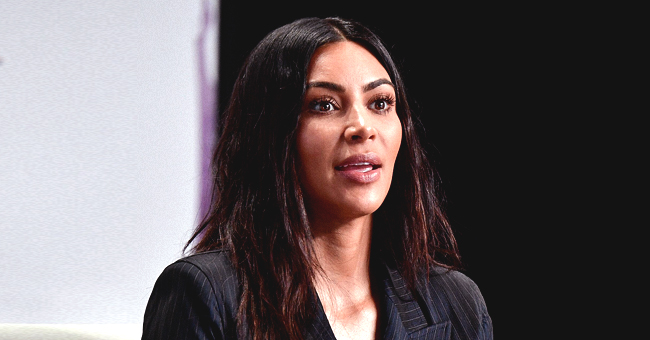 Source: Getty Images.
Kim Kardashian Models Some Daring Styles for Japan's Vogue
The business mogul Kim Kardashian recently took to social media and shared a "dream come true" as she took Vogue Japan by storm in out-worldly outfits.
Proudly, the 38-year-old posted pictures of the outfits she wore on Thursday for her three covers on Vogue Japan in August.
"3 VOGUE JAPAN COVERS!!! This was an absolute dream come true for me! Styled by the legendary @anna_dello_russo and shot by @luigiandiango Makeup @makeupbymario Hair @chrisappleton1 @voguejapan @kkwbeauty," Kim captioned the post.
Kim's one cover consisted of a headshot and the least experimental of the three looks. Two milky white hands cradled Kim's head in a red avant-garde headpiece for a memorable shot.
A sea of silky pink engulfed Kim on the second cover. It framed her face and drew attention to her eyes as they gazed at the camera.
The third cover was all about glittering snakeskin and straps as she posed for a full-length photo that oozed fierce femininity.
Some of her other shots went for a more all-black vintage look with fancy hats and veils while other shots went retro chic.
Kim keeps her body in shape by working out with her trainer since 2017, Melissa Alcantara. She does regular weight training to keep her derriere showcase worthy but admitted that she did take time off now and then.
"I would say every six months I take two weeks off from lifting. Sometimes you just need a break to recharge and chill, but then I miss it so much and [it feels] so good to be back at it," Kim wrote in an Instagram post earlier in June.
For those wanting to get their butts in shape, Melissa shared a tip to get the muscles working. While Melissa includes lunges, deadlifts, and squats in her butt workouts, one move stands above the rest.
"For anyone looking to get a serious butt workout in, it takes more than just one move, "Melissa told Insider in 2018. "But if I had to choose, it would be weighted hip thrusts, which seriously work glutes and hamstring muscles."
The reality star also announced the launch of her new Body Collection in a post wherein she showed how her new body foundation works.
"I can't wait for you guys to try the entire Body Collection launching in two days on Friday, 06.21 at 12 pm pst," she wrote.
Her grandmother, MJ, asked Kim to apply the body foundation to her hands and arms, and Kim decided to show her fans how effectively it works.
"If you let it dry before putting your clothes on it transfers way less, and if you set it with a translucent powder it hardly transfers at all," Kim said.
The reality star has a busy life and recently became the mother of four via surrogate. Born on May 9, Kim Kardashian posted an adorable new photo of her one-month-old son Psalm and his older brother Saint.
Please fill in your e-mail so we can share with you our top stories!