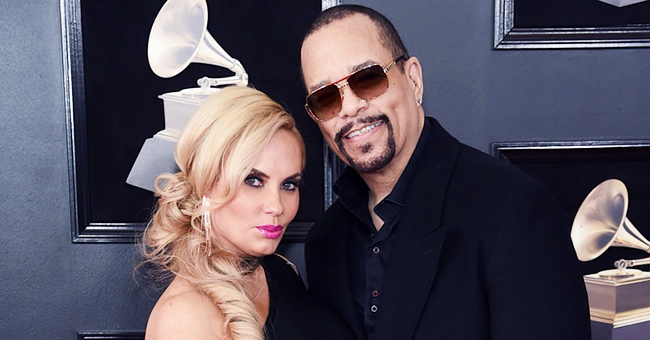 Getty Images
Ice-T Kisses Wife Coco in Rare Throwback Photo from Their 10-Year Vows' Renewal Celebration
American rapper Ice-T took to Instagram to share a rare throwback photo of himself with his wife Coco and fans couldn't be any happier.
The throwback snapshot was taken almost 8 years ago when the couple renewed their vows. Both of them looked adorable as Ice-T tenderly kissed his wife Coco's cheek while holding her close in the picture.
"Moments......Pic from our 10 year renewal of vows.. it's hard to believe were almost to 20 years..almost (in 2 more years lol)," the rapper wrote.
Hundreds of delighted fans took to the comments section to express how they admire their love story.
"You make marriage look easy!," one fan wrote. We couldn't agree more!

Fan comment on Coco's post. | Source: Instagram/coco
Another fan shared how they would love to see a "Ice Loves Coco" reboot, writing: "This makes my heart happy !! I wish we can reboot Ice Loves Coco just sayin."

Fan comment on Coco's post. | Source: Instagram/coco
Several of them noticed how the couple doesn't look like they have aged. "Haven't aged a day either of you," one of them commented.
The couple's strong union is truly exemplary since many Hollywood celebrities end up divorcing their partners within a few years of union.
ICE-T'S GOT HIS WIFE'S BACK
The father-of-three is protective when it comes to his family. Previously, the rapper came under fire on the Internet for sharing a topless photo of his wife sleeping alongside their daughter Channel on Twitter, but the rapper was having none of it.
After the tweet received harsh criticism from many fans, Ice-T replied to one of the hateful tweets through which he reminded people of a simple fact that women have breasts.
"Lol… You're looking hard… PS… Women have nipples," he wrote.
Ice-T and Coco welcomed their first child Channel in November 2016. The "Law & Order: SVU" star adores his family and won't let anyone demean them.
Please fill in your e-mail so we can share with you our top stories!