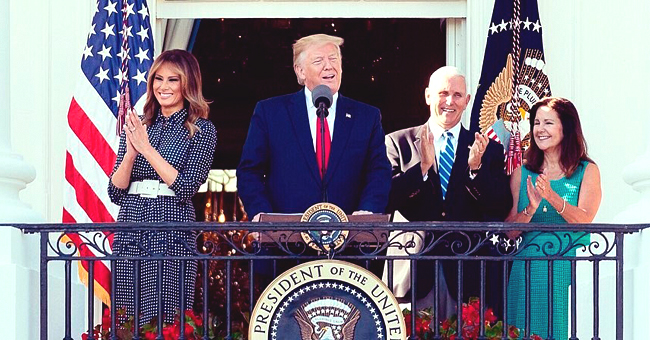 instagram.com/flotus
Melania Trump Looks like Ivanka's Twin While Wearing Almost the Same Belted Polka Dot Dress
Melania Trump wore a polka dot dress to a summer event at the white house, and the dress is identical to the one Ivanka Trump wore some time ago, making them look like twins.
The FLOTUS, Melania Trump, showed once again that she is a fashion icon as she wore a white and blue polka dot dress to the congressional picnic for members of Congress and their families.
Melania tweeted a series of photos showing her in the dress while standing on the South Lawn balcony with President Trump, the Vice- President, Joe Biden and his wife Karen, and different attendees of the picnic, including a boy she shook hands with.
The FLOTUS matched the dress with a white waist-belt, Christian Louboutin's $775 pumps of the same color, and she left her brunette hair free with a center part.
Interestingly, the former model's step-daughter, Ivanka Trump wore a similar dress in 2017 during a working visit to a plant in Illinois, as revealed by Twitter user and editor of One Illinois, Ted Cox.
Melania, in her tweet, referred to the picnic as memorable, and she thanked members of Congress and their families for coming out to celebrate the beginning of summer with her and the POTUS. In a press statement released by the White House a day earlier, the FLOTUS described the picnic as the day elected officials set aside the issues that separate them and unite as a community; and from her pictures, that was what happened.
Melania and President Trump mingled with their guests, and they both seemed to be in high spirits with no sign of the rumored tension in their marriage.
Days earlier, the billionaire President and his First Lady came under fire after he praised the latter by comparing her with one of her predecessors, Jackie Kennedy. The comparison didn't sit well with the President's critics, and they expressed their displeasure with not-so-kind words on Twitter.
Becca tweeted that the late Jackie had more grace and poise than the First Lady, and they should not be compared, while OrganicElena, tweeted that the former model might dress like the 1963 First Lady, but she would never be like her.
Despite the hurtful remarks, one thing is clear, Melania Trump does not need validation from anyone, and love or hate her, the FLOTUS is a style icon who has and continues to wow the world with her unique fashion sense.
Please fill in your e-mail so we can share with you our top stories!