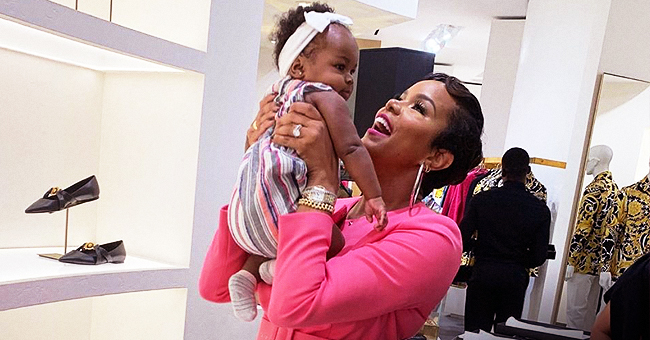 Instagram/letoyaluckett
New Mom LeToya Luckett Is Gorgeous in Pink as She Attends Charity Event with Baby Gianna

Singer Letoya Luckett shared a photo of herself and her baby daughter, Gianna Walker, at a charity event.
Letoya Luckett supported best friend Eudoxie Bridges' charity event at the Versace store in Atlanta, and she took daughter Gianna Walker along for the ride.
The fundraising was held on behalf of Eudoxie's foundation, Unspoken Angels.
"A very colorful night supporting @eudoxie and @unspokenangels at her @versace event.." LeToya Luckett
MOM AND DAUGHTER SUPPORT A GOOD CAUSE
Eudoxie's foundation, Unspoken Angels is a nonprofit organization that empowers and supports young women who have endured mental, verbal and sexual abuse.
Eudoxie founded the nonprofit in 2013 and has been helping hundreds of girls with the support of her friends such as Letoya.
Unspoken Angels, dedicated to helping girls in the US and in West Africa who have been victims of abuse.
FUNDRAISER AT VERSACE
Mother and daughter were dressed to kill since the fundraiser was held at Versace, and Letoya displayed her striking figure in a candy pink short dress, with a concealed placket and flap pockets.
Little Gianna wore a pretty striped cotton onesie and a big bow in her hair. She definetly inherited her beauty from her mom.
EUDOXIE BRIDGES IS GIANNA'S GODMOTHER
Eudoxie, who is married to rapper Ludacris, is Letoya's best friend and godmother to six-month-old Gianna Iman Walker. Eudoxie is the mother of a 4-year-old girl named Cadence Gaelle Bridges.
RAISING MONEY FOR ABUSED GIRLS
Eudoxie and Letoya were just two of many celebrities at the event, determined to help girls and young women struggling with abuse issues.
"There are few things of more importance to me than to reach back to young ladies who have experienced abuses and be able to help them deal with the hurt, betrayal, and feelings of inadequacy that I too have suffered in association with those abuses," said Eudoxie.
Eudoxie was inspired by her own history of abuse to create the non-profit Unspoken Angels, dedicated to helping girls in the US and in West Africa who have been victims of abuse.
It's wonderful to see celebrities like Eudoxie and Letoya united to help vulnerable children lead a better life and overcome their suffering.
Thank you Eudoxie and Letoya.
DESTINY' CHILD'S LETOYA LUCKETT WElCOMES HER FIRST CHILD
Destiny's Child singer Letoya Luckett and husband Tommicus Walker announced that they had welcomed their first child, a daughter, on January 4, 2019.
The happy parents named their baby Gianna Iman and posted a photo on social media showing the tiny girl's hand holding on to her mother's finger. The bouncing baby girl weighed in at 7 lbs., 15 oz, boated the proud mama.
Gianna is Letaoya's first child and Tommicus's second. Tommicus is already the father to 6-year-old Madison, from a previous relationship.
Please fill in your e-mail so we can share with you our top stories!