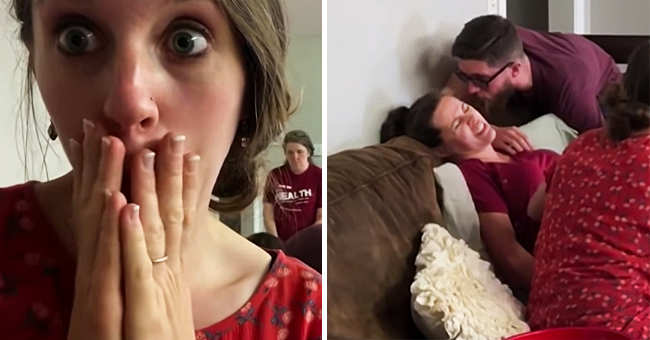 youtube.com/Access
New Video Footage Reveals Jessa Duggar Was Rushed to Hospital after Her Home Birth in May
When she didn't stop bleeding, the midwife called 911 and paramedics took her to the hospital, where everything turned out OK,
Fortunately, after arriving at the hospital and receiving medical attention, she only required medication to stop the bleeding and did not need a blood transfusion as in the delivery of her son Spurgeon, when her mother Michelle had to call 911 because she did not stop bleeding.
Some of her brothers and her mother came to the hospital to meet little Ivy Jane and learn about Jessa's health, while Ben's mother stayed at home with the children during labor.
In two ten-minute recordings, the Duggart shared the intimate moments of labor of Jessa, who commented that her water broke while she was preparing a drink in the kitchen of her house early in the morning, just before getting ready to go to church.
All this happened on May 26, and it was a very intense and emotional moment because the plans made by Jessa and Ben was to have the baby Ivy in a hospital suite with a midwife. However, things started to deviate when Jessa's midwife had to leave the city. Then Jessa decided to give birth at home, and she certainly did on the couch.
Little Ivy Jane was born two weeks before her estimated date, different from her older brothers who on the contrary spent a few days of the delivery date. Jessa also commented that Ivy feels much smaller than her brothers because both were around 10 and 9 pounds at birth.
Already back in the Seewald's house, little by little the remaining brothers approached with their respective wives and children, even Grandma Mary had the opportunity to meet her great-granddaughter, Ivy Jane, before her death two weeks later.
Ben was the first to share with the cameras the scoop of his daughter, he looked very excited and happy. Days later both have shared that having Ivy Jane is a blessing and that they feel extremely fortunate and grateful to God for her, that it is a treasure and they love her very much.
Realizing that he is now the father of a baby, Ben commented that it will certainly be his turn later to walk with her down the aisle of the church when she decides to get married, although there are still many years left until that happens.
Please fill in your e-mail so we can share with you our top stories!