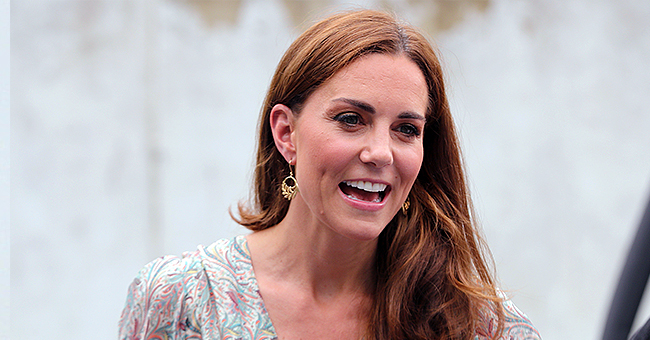 Getty Images
Kate Middleton Looked Summery While Attending a Youth Photography Workshop
The Duchess of Cambridge stepped out in fresh summer vibes for a recent official appointment in London and she charmed everybody in an event dedicated to English youngsters with an interest in photography.
37-year-old Kate Middleton was honored to take over one of her grandmother-in-law's patronages that is very dear to her, who is a talented amateur photographer, and she is now head of the Royal Photographic Society.
The-mother-of-three marked the arrival of the warmest season with an excellent choice of an outfit, flaunting her fashion savviness by donning a paisley print dress in shades of green and brown with loose short sleeves.
Middleton's shoes were also a season's favorite, as she completed the outfit by adding a pair of Castaner "Carina" tan wedge espadrilles. Coherent with her fresh, casual style, the Duchess wore her hair down.
Middleton visited a photography workshop aimed at schoolchildren run by both NGO Action for Children and the Royal Photographic Society, fronted by the Duchess.
KATE'S INTEREST IN PHOTOGRAPHY
While Middleton mostly keeps her photography to herself and her close ones, she has been praised in the past for her official portraits of her three children Prince George (5), Princess Charlotte (4), and Prince Louis (1).
Back in April, the proud mother released three images of hers and 37-year-old husband Prince William youngest child to celebrate his first birthday on Kensington Palace's Instagram account.
Middleton's passion for photography, something she has in common with Queen Elizabeth II, makes her the perfect royal to assume the leadership of the 67-year-old patronage, and its chief operating officer Mike Taylor was the first to acknowledge it.
"It is a huge honor to have the duchess as our patron, especially given her personal interest in photography," Taylor said.
"We know that photography and creative pursuits have such a positive impact for people of all ages, and we are excited to be working with one of the duchess's charities in support of their work," he added.
HER FATHER TURNED 70
A couple of months after Prince Louis turned 1, the Duchess of Cambridge and her three children attended Kate's father Michael Middleton's 70th birthday, with Prince William not in attendance.
Kate's parents recently celebrated 39 years of marriage, a relationship that produced the Duchess and her siblings James and Pippa.
HER BROTHER BATTLED DEPRESSION
While the Middleton's are mostly a happy family, 32-year-old James has struggled with depression at times, and he recently shared that his sister's rise to fame as member of the Royal Family made it worse for him when suddenly he was in the spotlight by association.
"Suddenly, and very publicly, I was being judged about whether I was a success of a failure. That does put pressure on you. Because in my mind I'm doing this irrespective of my family and events that have happened," he told USA Today.
James was inspired to finally open up about his mental health issues by his sister and brother-in-law's charity Heads Together, sharing his condition in a Daily Mail editorial back in January.
"I know I'm richly blessed and live a privileged life. But it did not make me immune to depression. It is tricky to describe the condition. It is not merely sadness. It is an illness, a cancer of the mind," he expressed.
Thus, James joined the many advocates fighting for the removal of the stigma surrounding mental health and invited others to take courage to admit their condition and ask for help.
Please fill in your e-mail so we can share with you our top stories!