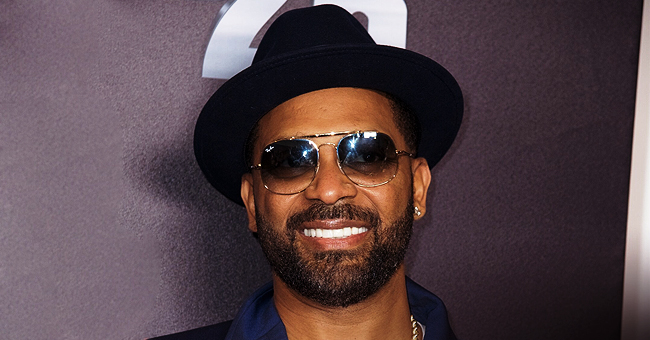 GettyImages
Check out Mike Epps' Pretty Granddaughter in Her Blue Dress & Sling Bag
Mike Epps' 6-year-old granddaughter Skylar looks gorgeous in a new pic shared by her mom, Bria Epps, on Instagram. Bria, Mike's eldest daughter, once reported the comedian to the police claiming he threatened her, but it seems like the father-daughter duo managed to fix their differences.
Bria Epps is the proud mother of a gorgeous 6-year-old girl, and she can't stop gushing about her on social media.
A STAR ON THE MAKING
Little Skylar, who came to the world when Bria was only 19, inherited her mom's beauty and natural charm. She doesn't seem to be shy in front of the camera, and her looks are always on point, as proven in some of her photos.
One of Skylar's most recent pics shows the girl rocking denim buttoned up jumper with pockets, a green t-shirt underneath, and a matching sling bag. Her hair was neatly arranged on a top bun, and she also wore a pair of cute flower earrings.
Skylar's adorable angel pose melted hearts among her mom's followers, who filled the comment section gushing about the little one's cuteness.
"Look at this doll!!" wrote one user.
Another added, "Pretty Sky!" and a third one said, "So stinking cute!"
A VERSATILE PRINCESS
Skylar can rock any style with ease. A few weeks ago, Bria shared a pic of the girl floating on a pool while wearing an orange swimsuit with her curls falling down her face.
And before that, Skylar looked adorable in an Easter egg printed dress and white sandals, rocking her curls tied up in a ponytail.
On her birthday last November, Skylar posed in the middle of a street holding a number 6 balloon and wearing a chic outfit that consisted on a long sleeve blue shirt, black skirt, boots, and a blue beret.
"Happy 6th Birthday to my little princess. You mean the world to me, keep being the sweet, caring, smart, beautiful little girl that you are! I love you... it's your day baby girl" Bria captioned the pic.
RELATIONSHIP WITH GRANDPA
Skylar and her grandfather, Mike Epps, seem to have a loving and caring relationship.
However, a year before she was born, Mike and Bria got into an argument that ended up with Bria calling the cops on him.
According to TMZ, Bria reported to police that her feather threatened during a phone conversation that got a bit heated.
Bria was allegedly mad after Mike made an appearance on Wendy Williams' show and mentioned only two of his four daughters. So, when she called him to confront him, things got out of hand.
Mike denied the allegations, and although it is not clear until what point police got involved in the family drama, Bria and Mike mended their relationship and are now closer than ever.
A PROUD FATHER AND GRANDFATHER
Mike Epps is a father of four beautiful girls: Bria, Makayla Moriah, and Madison. The last two are his children with ex-wife Mechelle Epps.
"They're all No. 1 in my eyes," Epps told People of the girls in 2016. "They're all really good girls and really, really smart. I've been blessed."
The comedian revealed that after having daughters, he had to make some changes into his music taste, as he was born in an era where hip-hop was constantly degrading women. He said:
"I was like, 'Well I've got to change my music menu.' When you have girls, you see your mother, you see your grandmother, and you see your auntie. All my daughters look like my great ones, my loved ones, my older one, my influences."
And although he's happy with his girls, Epps confessed he did miss out on having a son.
"I wish I had a son," he said. And added:
"My mother had eight sons and one girl. My mother cried every day. A woman can't control a little boy that much. You think they can, but it's like dealing with a little man. I think the gene pool switched up. I had all the girls that she wanted!"
Epps' new comedy special, "Mike Epps: Only One Mike," was released on Netflix on June 25.
Please fill in your e-mail so we can share with you our top stories!