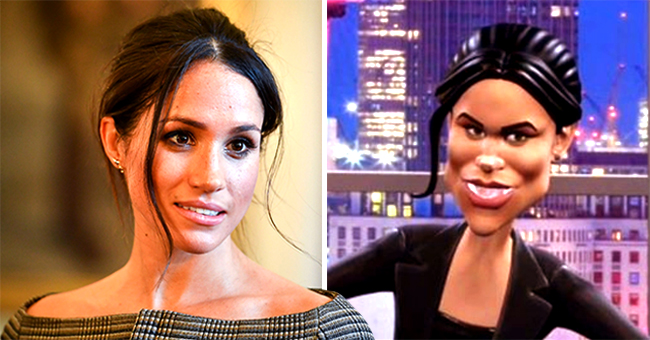 Getty images ; Twitter/anitathetweeter
Bbc Faces Severe Backlash for 'Racist' & 'Disgraceful' Meghan Markle Segment
BBC had to face some angry Royal Family supporters after saying some racist and disgraceful remarks about Meghan Markle in one of their shows.
In one of their new parody shows, they depicted the Duchess as angry "trailer trash," and this did not sit well with her millions of supporters.
The Controversial Satire Segment
The show segment, entitled "Meghan Markle's Royal Sparkle," featured a 3-D Duchess of Sussex character that could answer live studio audience questions. When the character was asked "what makes you angry?" the digital avatar voiced by Black comedian Gbemisola Ikumelo pegged her as a US Hillbilly that was born and raised in Los Angeles.
"I can tell she's used my hairbrush anyway because it's covered in skanky hair that's going gray and I say: 'stay the [expletive] out of my trailer or I'll cut you, Kate.'"
An Over-the-Top Hillbilly Imitation
The way Markle was depicted was meant to be funny and meant to poke fun at how friendly she actually is. However, it ended up being distasteful to many who watched the show.
Ikumelo decided to defend herself for the imitation, as she said it meant to show Markle as someone with a "mean streak" despite it being false.
Showing a False Image
"What if somebody who seems super lovely in public actually has a really mean streak? What would that look like? So I introduced an over-the-top, shouty, hillbilly drawl."
Regardless of who or how they defend the show, however, internet users are not pleased as they pegged such a calm and collected person as an unpleasant character. In fact, they said that it was racist and causes bad press for the Duchess of Sussex.
Markle's Generosity
Since joining the Royal Family, Meghan has been well-liked by many thanks to her many efforts of showing people that she's serious about her advocacies and in helping other people.
Last year, she launched a charity cookbook entitled "Together: Our Community Cookbook," which contains the recipes of the survivors of the Grenfell tower fire. The cookbook easily became a best-seller and put together more than 210,000 pounds for the women.
This is just one of the many charity efforts Markle and her husband, Prince Harry, have joined, and no doubt it won't be the last.
Please fill in your e-mail so we can share with you our top stories!