Bonnie Chapman Responds Furiously to Commenters Who Speak Ill of Her Late Mother Beth
Beth Chapman from the reality show Dog the Bounty Hunter passed away on Wednesday morning. Now her daughter has addressed people who are speaking ill about her.
Bonnie Chapman's mother, Beth Chapman, 51, passed away after her long battle with throat cancer. Later in the evening, Bonnie, 20, took to Twitter to address people who were messing with her mother's memory and legacy.
In an enraged post, the reality star called out people who were trolling. She insisted that her mother didn't deserve "to be degraded" because of her past.
Bonnie wrote: 
"For those talking [expletive] about my mother after her death, shame on you. My mother was a person and doesn't deserve to be degraded because of ANY of her or my father's past. My mother fought for women's rights and was the kindest woman."
Her father, Duane "Dog" Chapman, 66, was the one who announced Beth's passing via a Twitter post. Duane revealed that his wife died at 5:32 a.m. in Hawaii.
The reality television star shared that, ironically, the time of her passing also happened to be the same one "she would wake up to go hike Koko Head mountain." He sadly added that this time she'd "hiked the stairway to heaven."
After the news of her mother's death became public knowledge she paid tribute to her by tweeting that she would "never forget her." Beth's daughter remembered her mother as "a strong woman" who taught her to "always be strong."
Bonnie also honored and mourned her mother in a later tweet writing: 
"I'd never thought I'd lose my mom at 20. I told her I thought she had a couple years left, but in her eyes she disagreed."
The young star spent quite some time on Twitter retweeting her father's announcement and sharing a photo of her parents together. She also included images of a memorial set-up which included Beth's image. 
Bonnie captioned the post extending an invitation for those who wished to pay their respects. A number of her fans comforted her with one follower noting: "People are evil. Your momma was a beautiful woman. RIP Beth."
Beth passed away after being rushed to the Queen's Medical Center in Hawaii and put into a medically induced coma on Saturday. She had allegedly suffered a "choking incident" at home.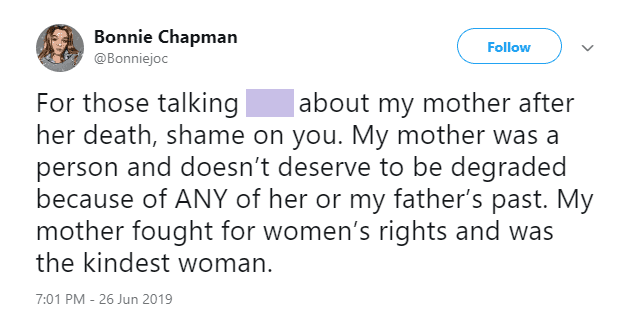 In September 2017, the reality star was diagnosed with stage II throat cancer. After doctors removed a mass from her throat she was declared cancer-free.
However, late last year it was discovered that her throat cancer had returned and spread to her lungs. She was rushed to a hospital in April for complications from the disease and then again on Saturday.