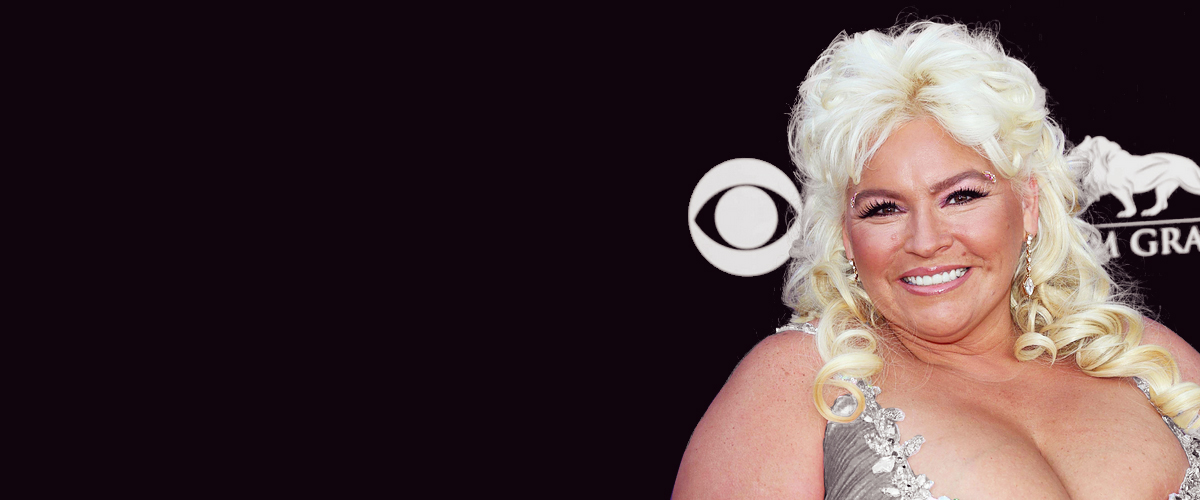 shutterstock.com
Duane Chapman Almost Breaks down While Sharing Beth's Final Words before Dying
Beth Chapman from the reality show Dog the Bounty Hunter sadly passed away early on Wednesday. Her husband had his first televised interview on the same day since her passing.
Duane "Dog" Chapman, 66, spoke to reporters about the passing of his wife, Beth Chapman, 51. The reality television star thanked friends and fans for supporting his family during their "most terrible time."
Duane spoke to a group of reporters who were gathered outside of his Portlock-area home in Hawaii. During the interview, he almost broke down a couple of times.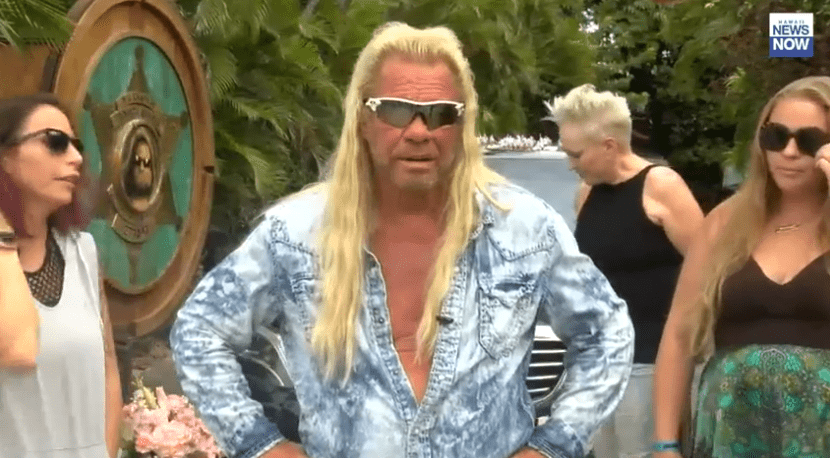 Duane Chapman speaking to reporters about Beth Chapman's passing on June 26, 2019 | Photo: Hawaii News Now
BETH'S LAST WORDS
A reporter asked Duane, at the end of the interview, what his wife's last words were and almost breaking down in tears he stated:
"When she had an attack I didn't know anything to do but to say 'in Jesus' name' and hold her and when I said 'in Jesus' name' she said, 'Say it again, say it more.'"
He also added:
"And then she told the girls and everybody, with her mouth — she came out of it a couple times — 'I love you' and 'Are you guys all okay? Don't worry,' but she never accepted it. So amazing, this is totally unbelievable."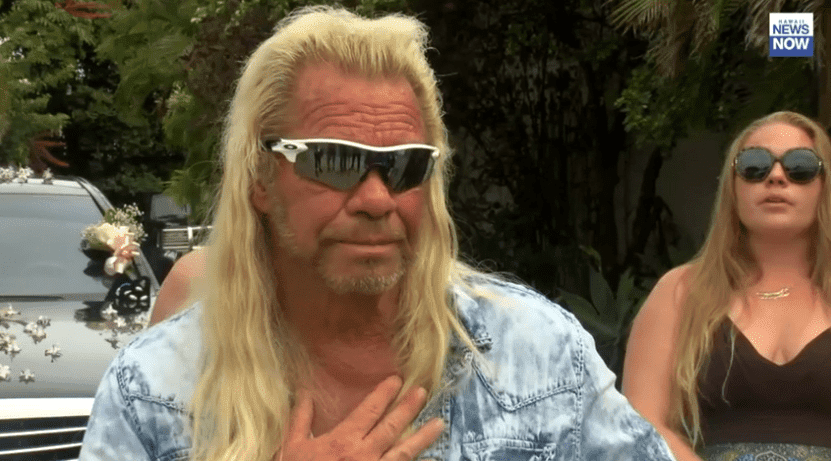 Duane Chapman speaking to reporters about Beth Chapman's passing on June 26, 2019 | Photo: Hawaii News Now 1
"RIGHT NOW WE'RE MOURNING THE DEATH"
Speaking about Beth's death he shared: "You kind of try to remember that you're celebrating life, but right now we're mourning the death." He admitted that the family knew for a number of years that she would pass on from cancer but confessed that it still caught them by surprise as "It came really unexpected, really fast."
The reality star and bounty hunter revealed that her clothing, makeup, and other items were still in their place as they hadn't anticipated her death. Lyssa Chapman, Duane's daughter from a previous marriage, said Beth's death had come by surprise.
DUANE ASKS FANS TO SEND FLOWERS
She shared that they'd figured they would be "bringing her home." The patriarch of the family also warned fans to not fall for scams from people who claimed they were raising funds for his wife.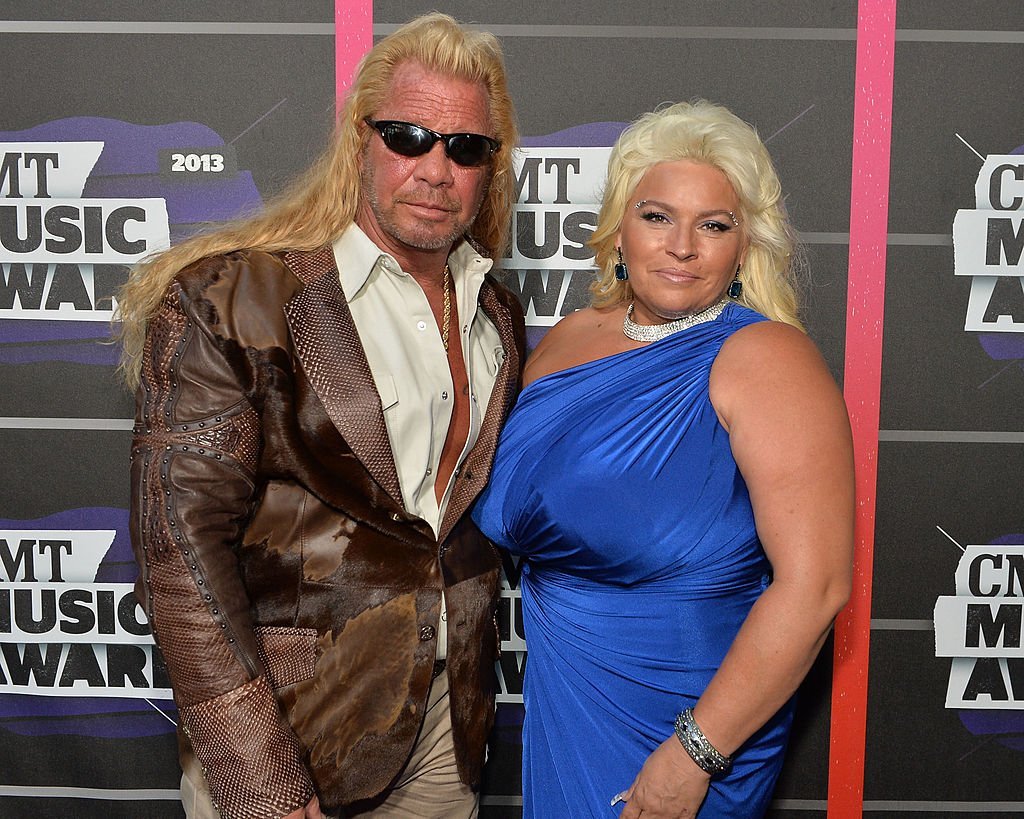 Duane and Beth Chapman | Photo: Getty Images
Instead of money, he asked that people send flowers. Duane shared that the family would have two public memorial services in Colorado (where they lived before Beth became sicker) and Hawaii to honor and celebrate his wife's life.
BETH'S DIAGNOSIS AND BEING ADMITTED TO HOSPITAL
On Saturday, the reality star was admitted to Queen's Medical Center in Hawaii and was put into a medically induced coma. In September 2017, she was diagnosed with stage II throat cancer and had surgery.
Not long afterward, she was declared cancer-free. However, last year she found out that the cancer had returned and spread to her lungs after she was rushed to the hospital.
This April, she went to the hospital again because of the disease. She and Duane had two children together, Bonnie and Garry Dee Chapman.
Their extended family included 12 children, 15 grandchildren, and 1 great-grandchild.
THE FIRST CONFIRMATION OF HER PASSING
Duane was the one who announced Beth's passing via a Twitter post. He wrote: "It's 5:32 in Hawaii, this is the time she would wake up to go hike Koko Head mountain. Only today, she hiked the stairway to heaven. We all love you, Beth. See you on the other side."
The Chapman family representative also confirmed: "Beth died at 5:32 this morning, the same time she would wake up to go hiking Koko Head. The exact same time. She was surrounded by family and Dog was there, holding her hand."
Please fill in your e-mail so we can share with you our top stories!