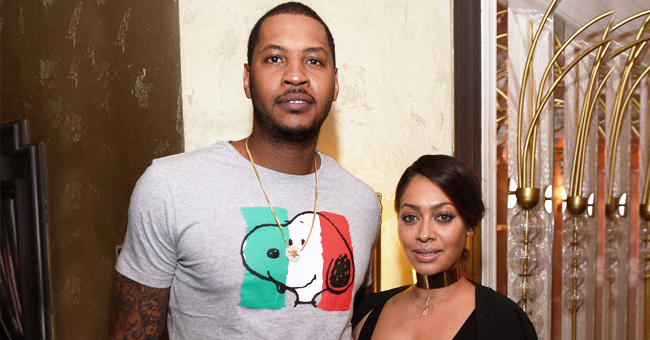 Getty images
Carmelo Anthony Goes on Bitter Rant Amid Cheating Rumors Following Yacht Pic
Mere months after La La Anthony forgave her husband, Carmelo Anthony, for previous infidelity allegations, the NBA player is firing back at rumors that he cheated on her again, and worse still, on her birthday.
La La turned a year older on June 25, but her special day was marred after photos surfaced of Carmelo on a yacht with another woman. In one of the pictures, a shirtless Carmelo lies beside the woman in the sun.
Several blogs appear to have published the photos, suggesting that the former "Houston Rockets" star is stepping out on his wife, but Carmelo has now cleared the air in a video message obtained by TMZ Sports.
The alleged baby mama has spoken out on several occasions about their daughter, Genesis Harlo
"I'm going to address this one time and one time only, and I'm really only addressing it for my family," Carmelo, 35, began. "Keep my family out [of] this, man."
He continued to explain that he wasn't on the yacht for leisure but was on a business retreat with another family:
"I'm over here trying to do my business retreat, I'm over here trying to have a good time, I'm on a boat with some friends. Them people are married man, they don't got nothing to do with anything. Y'all exposing somebody's wife, y'all exposing somebody's kids, all of that. Come on. Leave that alone, man, that ain't cool! Now I got to deal with that. I got to deal with that with my son; I got to deal with that with my wife. That ain't cool, man. …Let them people live."
"Usually I won't address this, but I had to address this," he added. "Can't let this one slide because this [expletive] ain't cool no more. Peace."
A day before Carmelo shut down the rumors, he paid tribute to his wife with a picture of the "Power" star accompanied by a sweet message.
"Some of the most beautiful things worth having in your life come wrapped in a crown," he penned. "Your heart is full of love and affection. Your hands are always caring. I am lucky to have you as my wife. HAPPY BORN DAY QUEEN. I LOVE YOU."
Carmelo and La La, who share 12-year-old son Kiyan, recently reconciled after the athlete was accused of impregnating a woman named Mia Angel Burks.
The alleged baby mama has spoken out on several occasions about their daughter, Genesis Harlo (who shares a striking resemblance with Carmelo), but neither La La, 36, nor her hubby has addressed it.
The couple separated in 2017 and seemed to have gotten back together by the end of last year so Carmelo must be distraught to see rumors of him cheating again, hence the latest video.
Please fill in your e-mail so we can share with you our top stories!