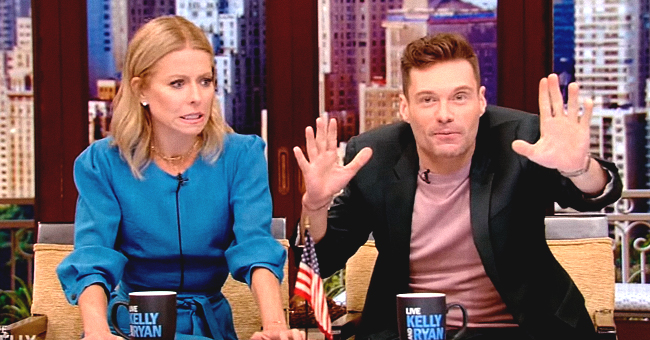 Youtube.com/LIVEKellyandRyan
Ryan Seacrest Reveals His Hilarious 'Nightmare' Toilet Incident at Kris Jenner's House
American television host, Ryan Seacrest hilariously disclosed a nightmarish experience he once had in Kris Jenner's home.
During an episode of Seacrest's live talk show alongside Kelly Ripa, "Live with Kelly and Ryan," he revealed that he once unknowingly clogged Kris Jenner's toilet.
He humorously recalled,
"I just left it!"
It is no news that Ryan Seacrest is a close associate of the Kardashians. That is perhaps because he raised the idea of their long-standing and now world-famous reality TV series, "Keeping Up with the Kardashians."
It, therefore, makes no surprise that Seacrest has had such an encounter with Kris, who is famously termed a momager for being a keen and quite excellent guide for the Kardashian clan.
On Wednesday, June 26, the 44-year-old star related one of the most embarrassing moments he has ever had. Seacrest disclosed that during a visit to the matriarch's home situated in Hidden Hills, he was bewildered when he found that he couldn't get the toilet to flush after using it.
"So she's got a bathroom in the entryway. I'm in there, and the toilet, it's like one of those electronic toilets, but it's black, so you can't see any of the buttons, and [the room is] dimly lit, and I can't find the light switch, and there's one candle lit."
Excitedly and to Kelly Ripa, Seacrest revealed that he became stumped as he discovered that he couldn't seem to "find the flush."
The award-winning host and producer further explained that he started a search for the button to flush the toilet with the nagging fear that someone else may enter the restroom to find a rather repulsive display! But not even then did the star find the somewhat mysterious button. Seacrest added,
"The technology was messed up, and it wouldn't flush."
"Oh, what a nightmare!"
Seacrest then explained that when he eventually flushed, another dilemma arose as he watched the toilet water rise showing that it was now clogged.
The "American Idol" host revealed that all panicky, he even thought of dipping his hands into the water, but to Ripa's shock, he honestly admitted that he finally decided to leave "it" there.
The star said jokingly, concluding his hilarious tale,
"Keep this between us."
One can only imagine what Kris Jenner, who remains ever youthful, thinks of Seacrest's story.
Please fill in your e-mail so we can share with you our top stories!