Beth Chapman's Stepdaughter Lyssa Shares a Photo of a Memorial Site in Honor of Her Late Stepmom
Beth Chapman's passing got many hearts broken and mourning after losing her battle with throat cancer. After her demise, her stepdaughter Lyssa Chapman shared photo her late "Hawaiian style" memorial.
After the painful passing of reality star, Beth Chapman, on Wednesday morning, her stepdaughter shared a glimpse of their memorial site set-up for their beloved family matriarch.
On Instagram, Lyssa posted what seems to be the entrance of the Chapman, home which had a beautiful black and white portrait of Beth and colorful leis and flowers all over the place. 
Chapman lost to a long battle with throat cancer and over the weekend, struggled with difficulty in breathing that was classified as an emergency "choking," and prompted her to be in a medically-induced coma. 
Fans and followers of the Chapmans were quick to comment on the post, sharing their sentiments on the death of a "phenomenal woman." One wrote:
"The world has lost a phenomenal woman! She was admired and adored by many!!! Another angel in Gods army. My heart is broken… all my love to her family!"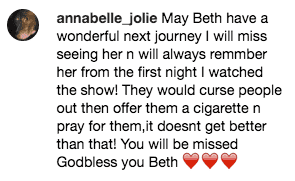 "She will be missed around the world. She may not have been related to her many fans but they related to her and your family in many ways," wrote another. 

Beth, together with her loving husband, Duane "Dog" Chapman worked in a bail bond business which was turned into a television series "Dog the Bounty Hunter," showing how the Chapman family ran after and captured fugitives in America.
A new WGN America series, "Dog's Most Wanted" was in the works when Chapman passed away. However, no cancellation announcements were made and the show is still set to premiere in the early part of 2020.
The network released a heartwarming video tribute for the late reality star which featured her in her best on-screen moments before her demise. They wrote:
"We are deeply saddened by the tragic news that @MrsdogC lost her battle with cancer today. She was an exceptional woman, all of us at #WGNAmerica will miss her tremendously. Our thoughts and prayers are with @DogBountyHunter, her family, loved ones and millions of fans."