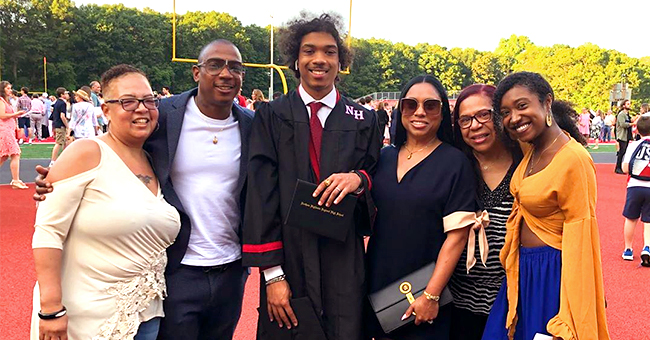 Instagram/ruleyorkcity
Ja Rule Is a Proud Dad as Eldest Son Graduates from High School and Heads to College
Ja Rule proudly declares his son if off to college as he devotes two Instagram posts from the happy occasion. Father and son share a candid moment in one of them revealing their special bond.
Ja Rule is rejoicing over his eldest son's recent milestone. His junior is off to college.
PROUD FATHER
It was only a while back when Ja Rule shared images from his son's senior prom. Jeffrey Atkins, Jr., named after his father, looked dashing in a suit next to his date, Trinity Rodriguez as they posed in front of a Rolls Royce.
Months later and we see Jeffrey wearing a black toga and beaming with pride on graduation day. He's surrounded by his family including his proud father who shared the photo and wrote,
"Graduation day!!! Congrats son you did it now it off to college..."
The rapper's joy extended in another post where he's caught in a candid moment with his high school grad. Father and son who look so much alike are captured laughing during the happy occasion.
"Be your kids PROTECTERS be your kids PROVIDERS be your kids DISCIPLINARIANS but also be their FRIENDS!!" Ja Rule wrote to caption the lovely pic.
FAMILY MAN
Ja Rule has been known to take fatherhood seriously. Apart from Jeffrey, he also has an older daughter, Brittaney who graduated from Hampton University last year. His youngest son, Jordan is 15. All three children are a product of his marriage to Aisha Murray, his wife of 18 years.
Fans of the star learned more about his family when they appeared in their short-lived reality show, "Follow The Rules" back in 2015. Many will recall the episode when his children famously broke the rules. They threw a house party while their parents were away. Jeffrey, who planned the whole thing, got a scolding from his father who arrived earlier than expected.
TROUBLED ENTREPRENEUR
Speaking of the unexpected, Ja Rule made headlines back in 2017 because of another party that didn't happen at all. He famously partnered with event scammer Billy McFarland who duped people via the failed "Frye Festival." McFarland went to prison for fraud while Ja Rule faced countless lawsuits despite absolving himself of any involvement in the scheme. Netflix and Hulu each released a documentary about the large scale disaster earlier this year.
Following the documentaries' release, the rapper apologized to a restaurant owner who lost tens of thousands of her personal money due to the fiasco. However, he didn't offer to pay for her loss.
Please fill in your e-mail so we can share with you our top stories!