Proud Dad Shaquille O'Neal Poses with His Look-Alike Sons at NBA Awards
Shaquille O'Neal and his two sons stepped out on the red carpet in blue, red, and grey but they all had one thing in common. 
In addition to all wearing black pants, the trio showed off their tall statures as they attended the 2019 NBA Awards in Santa Monica, California.
No doubt their 7'1" father's strong genes contributes to the height of Shareef O'Neal, 19, and Shaqir O'Neal, 16. The legendary basketball player did not overshadow his boys by much. 
He wore a dark blue suit and black pants and was the host for the annual event. His sons wore matching red and grey Balenciaga sweaters and black jeans. 
Shareef had on grey sneakers and also wore a pair of black sunglasses and at least two chains. His brother wore black boot-like sneakers while their dad matched his suit with some blue shoes. 
The picture which Shaq posted was captioned: 
"Say hello to O.B.I ONEAL BOYZ INCORPORATED @shareefoneal @shaqironeall #HANDSOME #ONEALBOYz"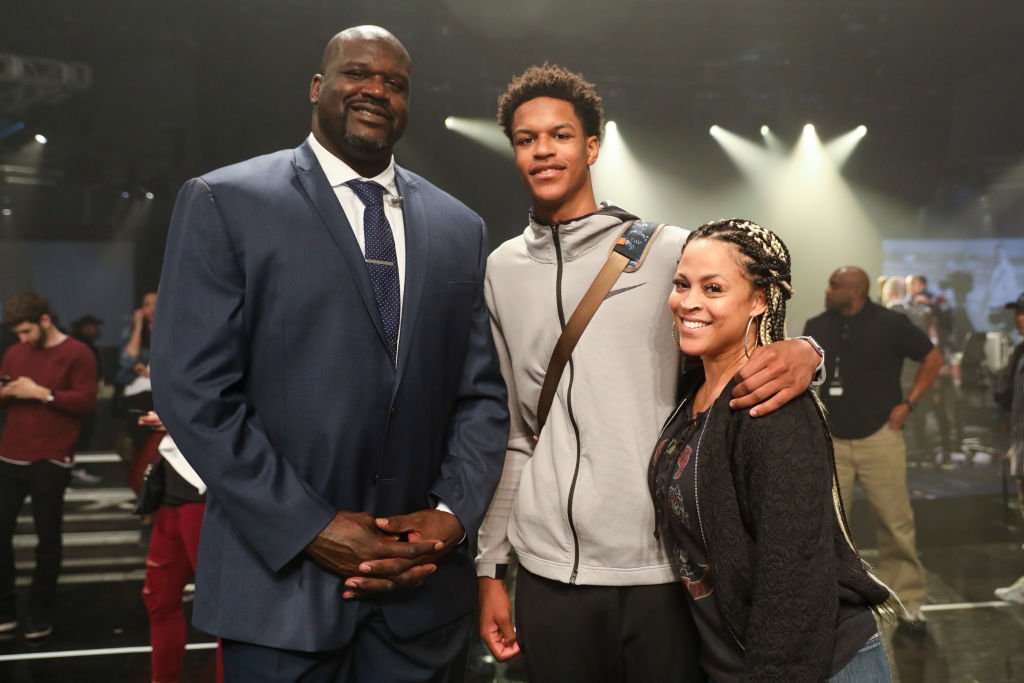 The two boys are following in their dad's footsteps, so their attendance at the event certainly could give them a lot to aspire towards. Shareef is part of the Drew Basketball League in Los Angeles. 
He was lucky to return to the court after undergoing heart surgery in 2018. His younger brother is still in high school but has also made an impression in the basketball world already.
As host of the 2019 NBA Awards, Page Six Style wanted to know how Shaq prepared for the big night. Apparently, he kept things really simple. "I'm just going to get a haircut, shave my beard, and you know, just go to work," he said.
Fortunately, stage fright is not a thing he gets. So, he just had to "put on some cologne, button [his] shirt, put on [his] tie," and he was good to go. Shaq even called it "easy." 
Of course, he still had to go over a few things before the official hosting part, but the big guy wasn't at all worried. He looked forward to the "jokes, insults, dancing, and fun" that was ahead. 
Indeed, one of the insults was directed at Shaq himself, but it was all in good fun. Jay Pharoah took over the mic for a portion of the night and gave his best impression of Shaq.
Kenny and Chuck check in with "new Shaq" at the #NBAAwards. 😂 pic.twitter.com/KuicPjAsZu

— NBA on TNT (@NBAonTNT) June 25, 2019
Kenny Smith and Charles Barkley also joined in on the fun, calling Pharoah the "new Shaq" and asking him his opinion on various happenings in the NBA arena. 
Although Shaq's boys are getting lots of support from their famous dad, their mother Shaunie O'Neal is also extremely proud of them. She shows it by posting shots of them online ever so often. 
For example, last year she uploaded a photo of Shareef in his UCLA Jersey. She wrote, "I can't describe how excited I am about this!!!!" Shaunie, mom of five, definitely has a lot to be proud of.