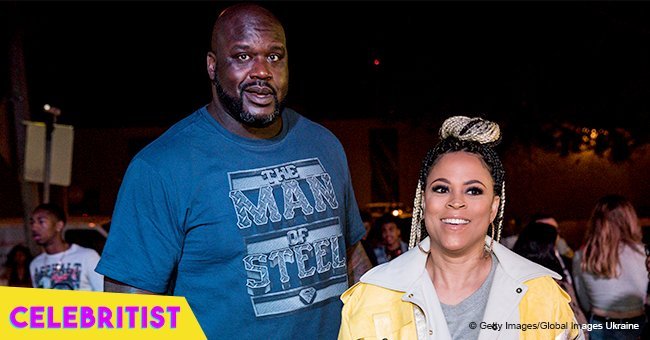 Shaquille O'Neal's ex-wife stops hearts with photo of their grown-up son in basketball gear
Shaunie O'Neal, the former wife of NBA superstar Shaquille O'Neal, posted a photo of his grown-up son in his UCLA uniform.
Fans gushed over the photo of his son, Shareef O'Neal, wearing a full UCLA basketball gear as the mother expressed how proud she is of him.
The mother of five said she couldn't begin to explain her excitement of her son's achievement.
She also wrote on the caption, "I ordered a ridiculous amount of UCLA gear and I'm totally ok with it! LET'S GO!!!!"
Shaunie is Shaquille's former wife. They were married on December 26, 2002, and had four children together.Their kids are Shareef, Me'arah O'Neal, Shaqir O'Neal, Amirah O'Neal.
Throughout their relationship, they went through a lot of on-again-off-again moments. Although, in 2009, the pair eventually filed for divorce.
Their separation was legalized on May 11, 2011.
Between those years, in March 2010, Shaunie started dating Marion Yates and have been together ever since.
Shaunie also has another child, Myles Nelson, from another man she had a relationship with before her marriage.
As for her career, she has made a name for herself as the creator and producer of the popular reality show, "Basketball Wives."
The show, which turned out to be a big hit, documents the lives of the wives, former wives, and girlfriends of professional basketball players.
A spin-off of the show was also released called "Basketball Wives LA," which is focused on those who are living in Los Angeles.
The latest show Shaunie has produced is "Shaunie's Home Court."
The show focuses on her and also documents her children's lives.
Shaunie reportedly has a net worth of $35 million. Apart from her earnings on her reality shows, which airs on VH1, she also receives $40,000 a month in child support and $5 million in alimony annually.
Shaquille's former wife has lived a happy life. She often boasts about her kids and shares photos of them on social media.
Previously, she shared a photo of herself with her two grown-up sons as she donned her braids and black suit.
Please fill in your e-mail so we can share with you our top stories!