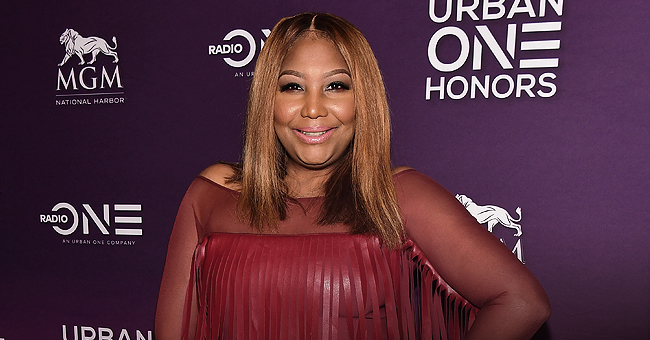 Getty images
Traci Braxton's Only Grandson Is Growing so Fast in New Adorable Pics
Traci Braxton's grandson is already relaxing poolside with his dad as the family enjoys the summer heat.
Kevin Surrat Jr. shared a sweet father-son photo of him and his son as they stood near a pool with fountains. The little one, who was born in April of 2018, stood up confidently as he looked towards the camera.
His father wore his waist-length locks loose and had no shirt on as he soaked up the rays. He wore a pair of purple swimming trunks for when the time came to go in the water. The photo is found below.
In the caption, Kevin Jr. posted a range of emoticons which read "End on top" followed by a "100" emoji. The comment section was littered with persons who noticed that baby Kevin had gotten big very fast.
A Father's Day post by his girlfriend Oliva Haaron two weeks ago showed the transition from newborn state to now, and the difference was astonishing. They grow up so fast.
The couple seems to be enjoying each and every stage of their son's life. They often take to social media to spread the cuteness and joy that little Kevin brings.
Grandmother Traci also regularly shares adorable pictures of her only grandson with followers. The "Braxton Family Values" star is special, however, in that she goes by "Duchess" in place of "grandma."
When baby Kevin was born, she was elated to receive "the best Mother's Day present." She continued, "I wish I could describe how amazing it feels to be a Duchess!"
She later explained to the Grio that she and her sisters had long determined to go by the title "Duchess" since that's what queens are called upon getting grandchildren. Traci considers herself royalty.
As such, her family must be royalty, too. When Kevin celebrated his first birthday in April, Traci posted several photos of him on her Instagram. Apparently, the tot has a lot of names as she listed several in the caption.
From the first picture she posted of him last year to now, it's clear that not only is little Kevin growing very quickly, but that he has a lot of support to help him through each stage of life.
In terms of her family at home, Traci has been through several ups and downs with husband Kevin Surrat. Issues like alcohol drinking, financial disagreements, and infidelity all arose when the pair went onto "Marriage Boot Camp."
Somehow, the two sorted things out and despite several close calls to divorce, they remained a married item. With the presence of their grandson, the whole family now has someone new to rally around.
Please fill in your e-mail so we can share with you our top stories!