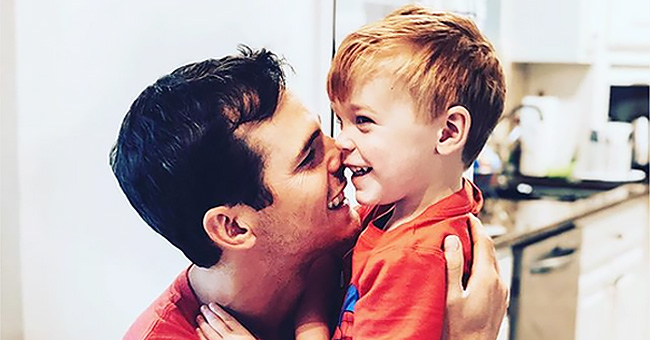 Granger Smith Unveils a Special Tattoo in Honor of His Late 3-Year-Old Son River
Granger Smith got a new tattoo inked in honor of his late 3-year-old son, River, who died recently in a drowning accident. The 39-year-old country singer got the tattoo of his son's name in black cursive on his right forearm in tribute to his memories.
River, who was the youngest of three children, died in an accidental drowning at their home in Texas on June 6. Granger shared the tragic news of River's death to the world via his Instagram account.
The heartbreaking post was a picture of the father sitting at a table with his son, his arms wrapped around his little boy in a happy embrace.
Granger captioned the photo with these words:
"I have to deliver unthinkable news. We've lost our youngest son, River Kelly Smith. Following a tragic accident, and despite the doctor's best efforts, he was unable to be revived. Amber and I decided to say our last goodbyes and donate his organs so that other children will be given a second chance at life…"
Granger and his wife Amber shed some light on what happened on that tragic day via a video posted by the couple on their YouTube channel.
In the video, Granger said they were all in the backyard together. He was doing gymnastics with his 7-year-old daughter London while his sons River and 5-year-old Lincoln were having a water gun fight.
What transpired next took roughly thirty seconds, but would change the entire trajectory of the family's life.
Smith explained that he and his wife Amber made sure a fence with a child-locked gate was built around their pool the moment they moved in.
He described the events that led to his son being inside the gate alone as "virtually impossible."
They are still not sure exactly how it happened, because it had happened so quietly.
"The other important thing to know, and I'll talk about this more in the months and years to come, is how quiet this whole thing happened,"
Smith explained this in the clip and continued by saying,
"there was silence. I was 15 feet from the gate, which is something that will haunt me the rest of my life. I was 15 feet from that water, doing gymnastics. A, him getting in there is an almost impossible feat, and B, him silently getting into the water is beyond any of us understanding."
After attempting to do CPR, the couple rushed River to Dell Children's Medical Center where he received care from the staff but died shortly after.
The couple says that viewing their son's death through the lens of faith is helping them cope. They made tribute t-shirts in honor of River and donated all the proceeds to the children's hospital.
The couple presented the check of $218,791 to the organization while wearing unique red shirts in honor of River.
The couple has said that they plan to produce another t-shirt later this year and will again donate all of the proceeds to the children's hospital.
Please fill in your e-mail so we can share with you our top stories!