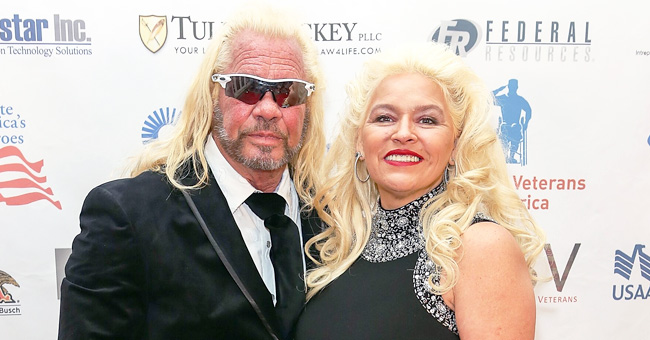 Getty Images
Late Beth Chapman Described 1st Meeting with Husband Duane in a Candid Interview

Beth Chapman, who passed away on Wednesday, talked about the moment she first met her husband and how she made him hers, in a sweet interview.
Beth Chapman, 51, died on Wednesday after a well-fought battle with throat cancer, but even until her last breath, she was completely in love with her husband, Duane "Dog" Chapman, who held her hand through it all.
In an A&E "Dog the Bounty Hunter" interview, the reality star detailed the first time she met Dog and how their exciting love story that started with lemons led to a fairytale-like romance.
At that time, Chapman was hired by a state senator in Colorado. As she was at the grocery buying lemons, the senator started paging her, "and it's kind of like the bat line" she explained. "When the senator calls, you get on the phone immediately" -- and so she did.
SHOPLIFTING LEMONS
While Chapman was in line to pay, she went ahead of the five people before her to use the pay phone; however, she was still holding the lemons. Security swarmed the actress claiming she was shoplifting.
"I was like, 'Oh my God,' right? 'I'm not shoplifting the lemons.' Chapman explained. "So I go to jail, I call this big dog lawyer, in Denver, Colorado, who happened to be a friend of Dog's and he said, 'You call up my friend, Dog,' and I go, 'Dog?'"
"Beth died at 5:32 this morning, the same time she would wake up to go hiking Koko Head."
After the Chapman got her bond and got out of jail, Dog started calling, telling her to do paperwork, where the supposed lemon shoplifter said: "Well, you took your sweet 'ole time, I'll take mine." Dog then called Chapman's father and said: "If she don't get down here, I'm going to go find her and drag her back to jail."
FROM LEMONS TO LEMONADE
"So, of course, I go sauntering in there, and I'm waiting and then all of a sudden, this blonde bombshell comes walking out from this backroom dressed in black all studded out with his long, wavy blond hair," Chapman described. "I thought, 'oh yes, he will be mine. Let the stalking begin now.'"
She knew that she had to get close to Dog for him to know what Chapman was like and win his heart; and so she became a bail bondswoman, knowing the bounty hunter would need to go to her and chase her fugitives. The late actress then continued to write "the worst bail that there was."
"'No collateral, no co-signer? Sure, come on down.' 'You don't have any money? Great, come on down. You have a pulse, right?" she added. "So I wrote all the bad bail I could write so that I would spend all this time with him and it worked."
A LOVE TO LAST
Last May, Beth and Dog celebrated their 13th wedding anniversary as she posted throwback photos of their wedding in Hawaii on her Instagram account with the caption: "A flashback to thirteen years ago; a couple of my favorites.
A month later, on June 26, the Chapman matriarch passed away due to throat cancer. A rep for their family confirmed the death to PEOPLE and said:
"Beth died at 5:32 this morning, the same time she would wake up to go hiking Koko Head. The exact time. She was surrounded by family, and Dog was there, holding her hand."
Please fill in your e-mail so we can share with you our top stories!