Shannen Doherty Thrills 'Beverly Hills, 90210' Fans with a Picture of Herself and TV Twin Brother Jason Priestley
Shannen Doherty's picture of herself and her on-screen twin brother, Jason Priestley, left "Beverly Hills, 90210" fans thrilled and excited.
Shannen Doherty is on-set shooting the reboot of the hit '90s teen drama TV series, "Beverly Hills, 90210," and she teased her fans with a picture post of herself and her on-screen twin brother, Jason Priestley, on Instagram.
Doherty in the picture leaned into a smiling Priestley, and they had nothing but a thatch-roof wooden structure, and trees as their backdrop. The photo appeared to have been taken, away from the reboot "BH90210" set, and the actress captioned it, 
"And just like that, the twins are back."
Fans of the actress and the show were thrilled by the post, and they excitedly took to the comment section to write about their nostalgia and the anxiety of waiting for the air date to arrive.
One fan — Alirea — wrote, 
"This is what dreams are made of." 

Another wrote, 
"This photo is everything; I'm like thirteen years old again."

Others wrote that they couldn't wait for the reboot to air while reliving watching the original series and seeing the twins "Brenda and Brandon Walsh."
The original series aired for a decade — from 1990 to the year 2000 — and Doherty only starred from season one to four. Apart from the "Charmed" star and her on-screen twin, the other members of the original cast, Jennie Garth, Tori Spelling, Ian Ziering, Brian Austin Green, and Gabrielle Cateris, are also set.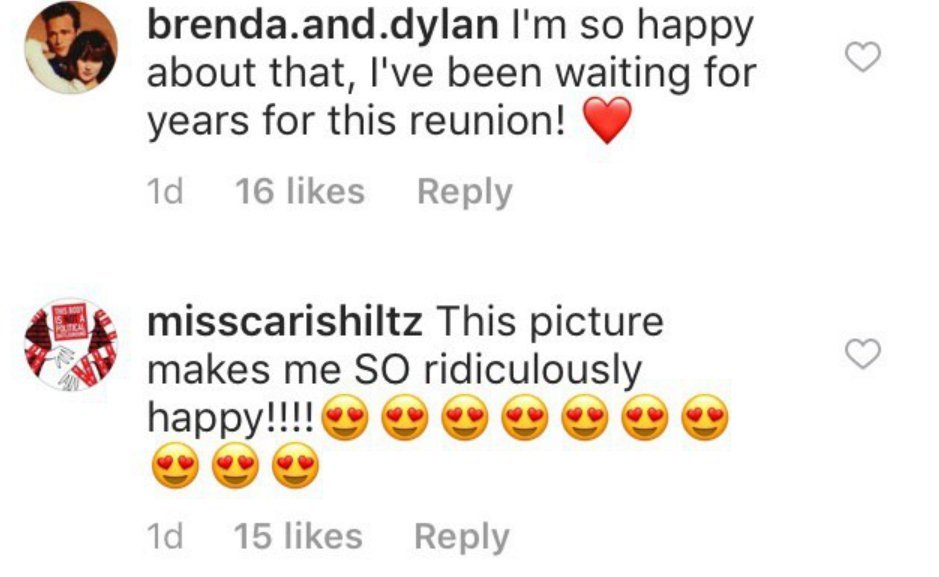 The cast has been busy promoting the reboot and getting fans interested; in June, they took things up a notch by releasing a 45 seconds teaser of their famous "Gossip fest" at the Peach Pit.
The trailer showed miniatures of the cast having a gossipy discussion until Ziering declared that he was tired of it, and wants them to do the show for real.
The reboot will pick up nineteen years after the show stopped, and will feature the lives of the characters in the present time. Garth described it as taking the viewers' perception and flipping it fascinatingly. Interestingly, some of the cast children do not recognize them from when the show first aired. 
According to People, Tori Spelling revealed that she showed her oldest children — Liam, 12, and Stella, 11 — a video of the original 90210 and they did not recognize her.
Spelling in an Instagram post equally expressed her gratitude on being able to have a do-over for a show she starred in from the age of 16 to 26.
"BH90210" will air on Fox from August 7.