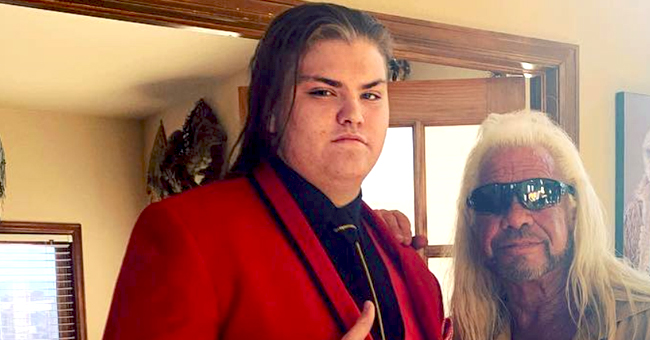 instagram.com/duanedogchapman
Beth Chapman's Son Garry Dee Reveals Mom Tried to Prepare Him for Her Passing
Beth Chapman may have departed the world, but the lessons she taught the world and her children would continue to linger in the hearts of many people. One of such people is unsurprisingly her son, Garry Dee who revealed that his mother tried to prepare him for her passing.
The feeling of losing a loved one is one that is hard to let go of. With every activity, you may tend to recall something you did or shared with that person, and the emotions just keep coming back.
The Chapman's find themselves in this situation, after losing their beloved mother, Beth Chapman last week. This feeling was echoed by her son, Garry Dee who shared an emotional tweet, recalling one of his mom's many lessons.
GARRY DEE'S TWEET
In his emotional tweet, Garry recalled how his mom had always stressed the importance of being strong, calling on him to always be. He further stated that he now saw the reason she taught him that, as she knew that he would need that strength to bear her loss.
He also shared a link to a video cut from an episode of "Dog the Bounty Hunter," a show made famous by his mom and dad. The video had some moments of Beth's life and the family in general, showing her during her pregnancies, and also taking care of her kids. It also showed moments involving Garry, his father, and Santa Claus.
Many of Garry's followers replied to his tweet and commiserated with him. Notable among the replies was that of his sister, Cecily Chapman, who told him she loved him and promised him that he would always have her.
BETH'S CHILDREN MOURN HER
Garry Dee is not the only one of Beth's children to post about her since she passed. In the moments following her passing, Bonnie Chapman, Beth's youngest daughter posted on social media stating that she was thankful for having her as a mother.
She also urged her to rest in peace, saying she loved her so much. The post was accompanied by a picture of Bonnie holding her mom's hand while she lay on her sickbed The 20-year-old also posted a series of emotional messages on Twitter.
Cecily Chapman also posted a picture of her mother, without a caption. She called her mother her "world" in one of her Insta Stories.
Lyssa Chapman also spoke to the press outside of her father's home in Hawaii, where she stated how the family felt loved with the outpour of love from people.
Leland Chapman, Beth's stepson also posted pictures of her, while she was in a coma, though they had no captions.
Please fill in your e-mail so we can share with you our top stories!