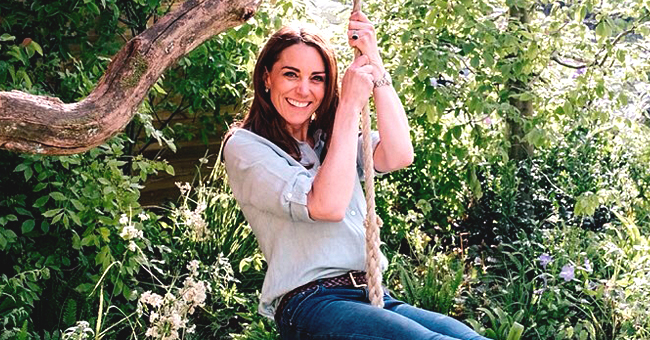 instagram.com/kensingtonroyal
Kate Middleton Improved on Her Garden Design after a Request from Prince George

Kate Middleton is a doting mother as she makes several upgrades to her Garden design at the behest of her adorable son, Prince George.
Kate Middleton, The Duchess of Cambridge, recently admitted to the public that the reason behind the recent upgrades to her new garden design was her firstborn son, Prince George.
The proud mother passed on Prince George's request to Jake Catling, the director of the Landscaping Consultants, on an impromptu visit to her new garden on Monday.
Catling explained to The Local Outlet how they should put in stepping stones for Prince George's benefit and how the kids enjoyed jumping across it.
Kate's new garden design features new additions which include playful, child-friendly installments, including a pond to paddle in, a hidden burrow reportedly inspired by a Badger's Sett, among others.
Kate's garden was launched at the Chelsea Flower Show earlier in May, however, since then it has been extended to a second location at the palace.
According to "People," Kate Middleton, along with kids from a few of her charities including the Anna Freud Centre unveiled the extension.
Kate took her time mingling with guests present for the outing on Monday, and she paid particular attention to Khareesha James, a shy schoolgirl who was feeling skittish.
According to "Hello," Kate, after realizing how worked up Khareesha was, took her to a den for an encouraging talk where she attempted to make her feel better and less shy.
In a conversation the news outlet had with Khareesha's mother, Sophia Dowd, she spoke about how shy her daughter was and how she avoided talking to people; Sophia commented on how accommodating and understanding Kate acted with her shy daughter.
Kate told the children during the day that she had enlisted the help of her four-year-old daughter, Princess Charlotte, in finding pine cones which she hid for the treasure hunt.
Though Charlotte was absent at the day out, her mother was quick to acknowledge she had helped her find the pine cones she hid. Kate admitted to the kids armed with magnifying glasses at the start of the treasure hunt saying:
"There are eight, Charlotte helped me find them."
After the treasure hunt, which was a success thanks to Princess Charlotte, Kate arranged a picnic for the children at the heart of the garden.
Though both Prince George and Princess Charlotte were both absent on the day out, they will certainly be spending healthy amounts of time in the garden as their mother is an avid supporter of the outdoor lifestyle.
Please fill in your e-mail so we can share with you our top stories!